central coast musicians reviews musos classifieds tuition showcases recording studios stores radio stations pa and lighting Simpson's solicitors

WHERE TO STAY hotels motels bed & breakfast caravan parks backpackers

SHOPPING markets & garage sales bateau bay square erina fair gosford tuggerah

TRANSPORT buses trains cars commuters

BITS n PIECES caterers whats on blog councils community testimonials advertise?


AMERICAN MUSCLE CAR SHOW


AMERICAN MUSCLE CAR SHOW:
The annual ALL AMERICAN MUSCLE CAR SHOW is on again on Sunday the 13th February 2011 in The Entrance Memorial Park.

The event is organised by The Mustang Owners Club of Australia (NSW Branch) and this year funds raised will go to the Glenvale Special Needs School at The Entrance North.

There will be sposors choice awards for
* Best Convertible
* Best Original
* Best Coupe
* Best Paint
* Best Sedan
* Best Mustang
* Best Modified
Check below for the 2006 winners in the All American Muscle Car Show Review.

There will be the usual festivities around the park of rides, stalls, face painting and games not to mention the beautiful lake, pelicans and the water park if it gets a bit too hot for the kids.

For more information on the club please contact NORM via email

EVENT REVIEW - AMERICAN MUSCLE CAR SHOW


AMERICAN MUSCLE CAR SHOW: The Entrance - 12.02.06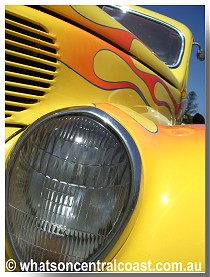 What another perfect day to have such a comprehensive display of big kids toys.

With over 160 vehicles on display this was an absolute feast for any car enthusiast glutton to pig out on.

With the sixties covers band The Fab Two on the Memorial Park stage setting the mood for this classic cars showcase the day was a brilliant, shining success for the weather, the cars, the crowds and the entertainment.

The winning entries in the various categories of the competition that was held today (all winners were sponsors choice selections) are as follows;


BEST CUSTOM CAR: Chevy- US1958 tag
BEST SEDAN: Mercury - DD0048 tag
BEST CONVERTABLE: - C21966 tag
BEST PAINT JOB: Ford F100 - EVIL 65F tag (owner John Pearon)
BEST ORIGINAL: Plymouth Belvedere - HH470 tag (owner Brad Holmes)
BEST MUSTANG: Mustang - MUZ69M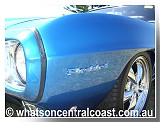 Although this annual event is organised by The Mustang Owners Club of Australia (MOCA Show and Shine) there were more than just some classically beautiful Mustangs on display.

A shining specimen among the many that caught my eye was a brilliant (sky?) blue Pontiac Firebird.

I didn't realise it was a Firebird until I got up close and personal (not being that much of an enthusiast) but the attraction and the captivation was not lost on me.
---

© whatsoncentralcoast.com.au

---

---

Whats On Central Coast
is run by a true local, born in Gosford and is very proudly Central Coast & Australian owned and operated.

An extensive knowledge and a love of the area plus a genuine interest to promote all it has to offer is what sets Whats On Central Coast apart from the others.

So if you are looking for holiday, temporary or permanent Central Coast accommodation, a spot of Central Coast shopping, some brilliant Central Coast entertainment, a surf report before a dip in one of the many pristine Central Coast Beaches or a round of Golf followed by some fish and chips or maybe 5 star cuisine from one of the many Central Coast restaurants or take-away's you have definitely arrived at the right place..
We also have the resources to help with your wedding plans too!
Check the links above and also to the left and find all you'll need to enjoy a night out on the town or a whole holiday!


Welcome to my home town.
---
~ THE GALLERY ~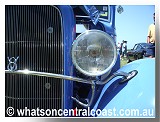 VINTAGE V8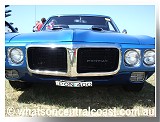 PONTIAC