central coast musicians reviews musos classifieds tuition showcases recording studios stores radio stations pa and lighting Simpson's solicitors

WHERE TO STAY hotels motels bed & breakfast caravan parks backpackers

SHOPPING markets & garage sales bateau bay square erina fair gosford tuggerah

TRANSPORT buses trains cars commuters

BITS n PIECES caterers whats on blog councils community testimonials advertise?

DETAILS - ANGE MURPHY

ARTIST:
ANGELA (Ange) MURPHY

DISCOGRAPHY:
Branded

CREDENTIALS:
Mentor, Teacher, Singer, Songwriter

CONTACT:
ANGE MURPHY MYSPACE

BIO - ANGE MURPHY

ABOUT ANGE MURPHY:


Ange Murphy picked up a guitar 6 years ago and started writing songs about her life.
In 2006 she recorded her first song 'Simple Life' in England whilst on a working visa, finding work in a local pub, Ange met musicians and performed.

Since returning to Australia Ange has performed at Lizottes restaurant, Coast Fest, PCYC special events, Sly Fox Sydney, Hopetown Hotel, Memo Club - Alice Springs, charity events and Tuggerah Westfield's.

Most of her performances have been to help out the PCYC and mentor youth at risk, teaching them music and spending time learning about their lives and teaching them how to express themselves.

From the heart Ange writes about life and her own experiences, thoughts and things around her. Her music is warm and vibrant, pure and natural.

From the first time you hear Ange sing you will be wanting more...her sound draws deep on natural beauty which is intimate and personal.

Influences include: Kasey Chambers, Missy Higgins, Cyndi Lauper, The Cranberries, The Waifs, Brandy Carlile, Oh Laura, Kate Nash.

ANGE MURPHY - SAILS STAGE 31.07.2011:


I have been hoping to catch Ange Murphy perform for a while now and in that time the recommendations still kept coming.

The cosmos aligned a beautiful day, an ability to catch up on heaps of work and the need for a perfect coffee on Sunday.

It appeared half the Coast were also there for what can only be described as a perfect day of sunshine, family and some fantastic local entertainment.

Ange did NOT disappoint any of the recommendations I had received and if anything, surpassed many of them.

It is easy to say "so and so has a great voice" but it is not until you actually hear that person that the reality sets in.

Ange did some covers and original songs and both were well received by the crowd.

For the short while I was able to stay Ange covered, I'm a Believer for the enthralled dancing kids in front, Bad Moon Rising and When I Ruled the World to mention a few.

While I didn't catch the names of the originals 'Baby if I told you...' and 'If I'm not here in the morning' were just lovely.

I am really keen to grab a CD or two and hear more original songs from Ange.

It was so entertaining and relaxing and also reminded us all of whats in store when the Spring Summer season arrives.
---

© whatsoncentralcoast.com.au

---

---


Whats On Central Coast
is run by a true local, born in Gosford and is very proudly Central Coast & Australian owned and operated.

An extensive knowledge and a love of the area plus a genuine interest to promote all it has to offer is what sets Whats On Central Coast apart from the others.

So if you are looking for holiday, temporary or permanent Central Coast accommodation, a spot of Central Coast shopping, some brilliant Central Coast entertainment, a surf report before a dip in one of the many pristine Central Coast Beaches or a round of Golf followed by some fish and chips or maybe 5 star cuisine from one of the many Central Coast restaurants or take-away's you have definitely arrived at the right place..
We also have the resources to help with your wedding plans too!
Check the links above and also to the left and find all you'll need to enjoy a night out on the town or a whole holiday!

Welcome to my home town!
---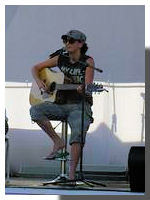 ANGE MURPHY