central coast musicians reviews musos classifieds tuition showcases recording studios stores radio stations pa and lighting Simpson's solicitors

WHERE TO STAY hotels motels bed & breakfast caravan parks backpackers

SHOPPING markets & garage sales bateau bay square erina fair gosford tuggerah

TRANSPORT buses trains cars commuters

BITS n PIECES caterers whats on blog councils community public internet cafes testimonials advertise?

ARTIST BIO - BLACK ASYLUM

BLACK ASYLUM - THE BIOGRAPHY

BLACK ASYLUM :

With an unyielding dedication and professionalism to their art, Black Asylum creates original, power driven Heavy Metal music.

Their self-titled genre is "Molten Metal" – Heavy, Flowing and Unrestrained! Influences of traditional heavy metal acts such as Testament, Metallica and Megadeth are echoed in their sound and the band plays with a music brutality (Pantera like) and with a melodic dynamic (like Opeth).

This musically effective meshing of metal genres through powerful guitar compositions where melodic phrases merge seamlessly into tumultuous musical flows capture the drama and very essence of Heavy Metal.

With this style in place Black Asylum stays true to Heavy Metal traditions without losing track of the coming age.

After already playing shows alongside leading Australian acts such as ALCHEMIST, DAYSEND, PARKWAY DRIVE, LORD, PATHOGEN, THE FUROR and MORTAL SIN just to name a few, a debut album in the wings to be released in the first half of 2008 and all of this mixed with one of the most uncompromising and brutally heavy live shows you'll see, Black Asylum is well on its way to carving itself into the metal scene of Australia and then the world... The rise of Black Asylum on the heavy metal horizon has only just begun...

~ THE GALLERY ~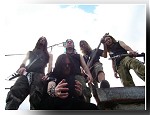 BLACK ASYLUM