central coast musicians reviews musos classifieds tuition showcases recording studios stores radio stations pa and lighting Simpson's solicitors

WHERE TO STAY hotels motels bed & breakfast caravan parks backpackers

SHOPPING markets & garage sales bateau bay square erina fair gosford tuggerah

TRANSPORT buses trains cars commuters

BITS n PIECES caterers whats on blog councils community testimonials advertise?

WHATS ON IN LIVE THEATRE ON THE CENTRAL COAST
THE ART HOUSE

The Art House is the Central Coast's newest performing arts centre featuring a 500 seat theatre, 130 retractable seat studio, gallery foyer with bar and café and meeting room.

Opened in April 2016, The Art House is located on the corner of Margaret Street and Anzac Road Wyong NSW

For more information please contact
The Art House

Website
Facebook
Box Office; Phone: 02 4335 1485


WHAT'S ON AT THE ART HOUSE:


The Art House Introduces Under 30s Pricing
A regular night out at the theatre can be out of reach for many young adults, but in its new 2017 program The Art House Wyong has introduced discount under 30s pricing on seven of its biggest 2017 shows, with the aim of making national-quality theatre accessible for everyone.

Under 30s can access discounted tickets up to 30% off World-class contemporary dance from Sydney Dance Company and Australian Dance Theatre, music from the 7 Sopranos and Jane Rutter and Teddy Tahu Rhodes, plays Coranderrk and The 7 Stages of Grieving and aerial hijinks and acrobatics from Circus Oz. Children and pensioners are also able to access these and other discounts off full price theatre tickets.

The Art House Announces Circus-themed First Birthday Celebration
A part of the fabric of the arts on the Coast, it's hard to believe The Art House Wyong is only turning one this May. To celebrate the milestone, they're bringing the Circus to Wyong for a weekend of celebration.

Circus Oz, the rock-n-roll, one-of-a-kind, uniquely Australian Circus shakes up the theatre for one weekend of breathtaking stunts, irreverent humour and cracking live music in a brand-new show 'Model Citizens'- a show that both adults and children will love. With a huge set made up of every-day objects blown up to epic proportions, this production will be a hair-raising celebration of what it means to be an Australian today.

To get the first birthday party started, ticketholders will need to make sure they get there up to an hour before showtime to experience all the fun of the circus as they arrive to the theatre, with fairy floss, popcorn, acrobatics and more all taking place in the foyer.

Get your tickets today before they sell out to see world-class acrobatics, daredevil stunts and more right in the heart of the Central Coast and to join the Central Coast's premier performing arts' centre for an unforgettable celebration.
So come join the circus, book your seats to any Circus Oz performance on 19 & 20 May and enjoy the festivities!

Tickets: $25-$49 (including foyer festivities from one hour prior to showtime)

The Art House Wyong has released its 2017 line up and as expected, The Coast's newest and largest performing arts' centre has not disappointed

Show List

Glitta Supernova presents - Body Map
Australia's cult pioneer of Performance art brings her multi nominated, award winning show to the ART HOUSE theatre.
The Central Coast local from Umina Beach has never brought her brand of red-light comedy and social commentary to the Central Coast and is very excited to utilise the world class Art House theatre, "It's about time professional artists can have a place which is on the pulse and providing the facilities any theatre goer would expect.
April 22

Wyong Musical Theatre Company Presents Sweet Charity
Strictly Limited season
Friday 5th May till Saturday 13th May 2017

Circus Oz: Model Citizens
May 19-20

The Witches
A Griffin Theatre Company Production
June 8-9

The 7 Stages of Grieving
A Queensland Theatre Company & Grin & Tonic Productioin
June 13-14

Coranderrk
An Ilbijerri Theatre Company and Belvoir Co-Production
June 24

Sydney Dance Company: Frame of Mind
July 5

Horrible Harriet
A CDP Kids Production
August 17-18

Australian Dance Theatre: Be Your Self
August 30

Room on the Broom
A CDP Kids Production
October 23

Jane Rutter and Teddy Tahu Rhodes:
Classical Heroes and the Art of Seduction
October 30

National Tour Of Diary Of A Wombat
Produced by award-winning Monkey Baa Theatre Company and based on the multi-award winning picture book by Jackie French and Bruce Whatley

Millions of young people around the world have adored Diary of a Wombat, and now finally this iconic work has been adapted for the stage for the first time by Monkey Baa Theatre Company, and showing at The Art House Wyong on Saturday 1 April as part of a national tour. This landmark Australian production will feature stunning puppetry, a live cello score and a brilliant set design in Monkey Baa's signature style.

Audiences aged three and over will meet Mothball, the naughtiest wombat in Australia. Bored with her daily routine, Mothball goes in search of shelter and food, creating chaos in the lives of the humans around her. Doormats, bins and washing lines are no match for this mischievous marsupial. Between a packed schedule of scratching, sleeping and eating, Mothball discovers that with a bit of persistence humans are quite easily trained!

Director Eva Di Cesare: "We've assembled an extraordinary team of artists to bring this iconic picture book to life. Diary of a Wombat is such an enduring childhood classic and audiences are going to fall in love with Mothball all over again when she burrows her way on to our stage."

Jackie French, author of Diary of a Wombat said "What Monkey Baa has done is extraordinary. In fact, what they have done is impossible, but Monkey Baa has always done the impossible."

Following its Sydney premiere Diary of a Wombat will tour 59 venues across Australia until November and will make its Central Coast debut at The Art House Wyong on Saturday 1 April.

Diary Of A Wombat
Dates & Times: Saturday 1st April - 2pm
FOR:Ages 3+
VENUE: The Art House WYong
TICKETS: $25 adult, $20 child, $75 family of 4
BOOKINGS: www.thearthousewyong.com.au/ 0243351485
---------------------------
A Night Of 50's Glamour At The Art House Wyong
Put on your 1950s best, curl your hair, shine your vintage car and get to The Art House on April 5 for a night of 50s Hollywood glamour from The 7 Sopranos.

Living up to their reputations as the "showgirls of opera," The 7 Sopranos' new show – Songs from Stage and Screen, draws upon classic songs such as – I Got Rhythm, Big Spender and Diamonds are a Girl's Best Friend—in a deliciously cheeky show celebrating sisterhood, the power of transformation, and flirtatious fluttering petticoats.

The show is a triumph of beautifully blended harmonies, incredible musicianship and spine‐tingling arrangements from acclaimed composers such as Rogers & Hammerstein, Gershwin and Mancini.

The 7 Sopranos will intoxicate the senses and seduce the mind with a stage show like no other. So, channel your inner Doris Day, Marilyn Monroe or Rita Hayworth as you are transported into a world of nylons, killer heels and eye-poppin' lipstick!

The 7 Sopranos perform their new show at The Art House Wyong on Wednesday 5th April at 7.30pm

Tickets can be purchased for these shows, and all The Art House's 2017 line-up, from www.thearthousewyong.com.au or direct from the box office on 4335 1485

GOSFORD THEATRE COMPANY
The Gosford Theatre Company was formed in December 2015 by a small group of experienced, theatre based individuals with a view to presenting a wide variety of theatrical productions on the Central Coast.
Their mission is to provide an alternative and diverse theatrical outlet for Central Coast writers, actors, directors, stage managers, set designers, artists, musicians, choreographers and technical operators

EMAIL: gosfordtheatre@gmail.com
WEB: GOSFORD THEATRE COMPANY

---

LAYCOCK STREET THEATRE

Laycock Street, North Gosford NSW 2250

(located between the Pacific Highway and Henry Parry Drive, near the McDonalds roundabout)

Phone - Box Office: (02) 43 233 233;

Admin Office: (02) 4323 7299

WEB:

LAYCOCK STREET THEATRE

WHAT'S ON AT THE LAYCOCK STREET THEATRE For Bookings, Specials and Season Ticket information please see the Laycock Street Theatre Website

---

WHAT'S ON AT OPTIONS THEATRE COMPANY


We are a disability theatre company that's been producing cutting edge theatre and film since 2010

See our Youth Programs page for dance; Ballet, Hip Hop and open plus puppetry and theatre sports

---

PENINSULA THEATRE



Ocean Beach Road,
Woy Woy NSW 2256

Phone; (02) 4323 3233

Web:PENINSULA THEATRE

WHAT'S ON AT THE PENINSULA THEATRE

Woy Woy Little Theatre presents ...

Woy Woy Little Theatre is a non profit community theatre group. Our aim is to bring a diverse program of plays to the community.
The company was established in 1962 and is run by a passionate group of actors and theatre lovers.

We are the resident theatre company at the Peninsula Theatre, a 124 seat community based theatre owned by Gosford City Council and located on the corner of McMasters and Ocean Beach Roads, Woy Woy, where we present a season of three or four plays each year.

Monthly Play Readings
Play Readings are held monthly - you can just sit and listen or have a turn at reading a part in a play for possible inclusion in our subscription series. These play readings are held on the last Monday of each month in the foyer of the Peninsula Theatre at 7.30pm.
---
---

WYONG MUSICAL THEATRE COMPANY

WYONG MUSICAL THEATRE COMPANY


Wyong Musical Theatre Company Inc. is an amateur community theatre group.

Founded in 1996 by Sandra Plowright.

'Showline' details: 1902 260 527 (calls are charged at 50 cents per minute - higher for mobile phones and payphones)

WYONG MUSICAL THEATRE COMPANY WEBSITE

WHAT'S ON FROM THE WYONG MUSICAL THEATRE COMPANY


WMTC Inc. is proud to present Sweet Charity ...

Charity Hope Valentine works at a seedy Times Square dime-a-dance joint.
Charity is an incurable optimist with a golden heart who longs for love but never seems to look for it in the right places, until one day the fickle finger of fate intervenes and she falls in love with Oscar, from whom she must hide her chequered past and sordid dance hall job.

Leading the creative team is Director Margaret Holdom, Musical Director Maryellen Gillard and Choreographer Zachary Webster.

To do a show set in the swinging sixties is a special bonus for me. This would have to be my favourite fashion era, and I was a young fashion conscious teenager in that decade.
It was a time when the world was changing rapidly, and women were making themselves heard. Perhaps many of us could relate to Charity's plight, and knew there was something better than this!

I have enjoyed the most wonderful opportunity to work with the extremely talented Maryellen and Zachary, along with all the other members of my Creative Team. The big question when putting on this show is will a triple threat actress turn up at auditions for the lead role?

We were immediately put at ease when Monique Donath performed for us, and she is supported by an extremely talented cast.
With hits including 'Big Spender', 'Rhythm of Life' and 'If My Friends Could See Me Now', join WMTC for Bob Fosse's iconic Sweet Charity to see if our heroine can live 'Hopefully Ever After"...

Sweet Charity
Book by Neil Simon - Music by Cy Coleman - Lyrics by Dorothy Fields
Based on an original screenplay by Federico Fellini, Tullio Pinelli and Ennio Flaiano
Produced for the Broadway stage by: Fryer, Carr and Harris
Conceived, Staged and Choreographed by Bob Fosse

"Sweet Charity" is presented by permission of ORiGiN™ Theatrical
On behalf of Tams-Witmark Music Library, Inc.

Wyong Musical Theatre Company is thrilled to be back at The Art House after its successful first season with Oliver! and Disney's Beauty and the Beast last year.

Strictly Limited season Friday 7th May till Saturday 13th May 2017.
The Art House
Cnr Anzac Ave & Margaret St
Wyong
Tickets on sale now from The Art House or by calling 4335 1485

For more information visit the WMTC Website

---

Welcome to Whats On Central Coast

---
The Friends of the Performing Arts Precinct Incorporated are based on the NSW Central Coast Region of Australia and represent all forms of performing arts.
The Vision of the Friends includes:
* an acoustic Concert Hall to seat 1000
* a new Conservatorium of Music
* a regional Auditorium
* performance spaces for dance, drama, bands, singers
* a cultural display centre for Indigenous people
* cafes, public spaces!


---
~ THE GALLERY ~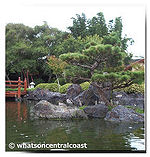 EDOGAWA GARDENS