central coast musicians reviews musos classifieds tuition showcases recording studios stores radio stations pa and lighting Simpson's solicitors

WHERE TO STAY hotels motels bed & breakfast caravan parks backpackers

SHOPPING markets & garage sales bateau bay square erina fair gosford tuggerah

TRANSPORT buses trains cars commuters

BITS n PIECES caterers whats on blog councils community testimonials advertise?

WHATS ON IN LIVE THEATRE ON THE CENTRAL COAST
THE ART HOUSE

The Art House is the Central Coast's newest performing arts centre featuring a 500 seat theatre, 130 retractable seat studio, gallery foyer with bar and café and meeting room.

Opened in April 2016, The Art House is located on the corner of Margaret Street and Anzac Road Wyong NSW

For more information please contact
The Art House

Website
Facebook
Box Office; Phone: 02 4335 1485


WHAT'S ON AT THE ART HOUSE:


Coranderrk
An Ilbijerri Theatre Company and Belvoir Co-Production
24th June


Ngangga Ya (Speaking to the Future)
NAISDA Dance College
28th - 30th June

NAISDA Dance College will share inspirational stories of resilience, preservation and reawakening of cultural heritage, as told by the next generation of Aboriginal and Torres Strait Islander performers.
Proudly dancing on Darkinjung land, NAISDA Dance College is one of eight elite, national training organisations in the performing arts and is at the forefront of shaping Australia's artistic and cultural talent.
NAISDA's productions express our commitment to honour the world's oldest living culture and share knowledge of Aboriginal and Torres Strait Island dance, music, art and history with audiences from around the world.

Sydney Dance Company: Frame of Mind
5th July

Horrible Harriet
A CDP Kids Production
17th-18th August

Speedmouse
The Umbilical Brothers
19th August

The Umbilical Brothers are an international comedy phenomenon who have so far won a couple of BAFTAS's, an Emmy, the Critics Choice at Edinburgh Fringe and the Helpman Award for Best Comedy Performers, to name a few. They have performed in 37 countries with 5 different shows. Now they are returning home with one of their most beloved ones, SPEEDMOUSE.
Full of the stuff you love best, Speedmouse is a live action, fast paced, rewind, slow motion, frame-by-frame adventure where two men create the impossible out of a microphone and a unique physical ability that has no equal. Speedmouse has earned a bevy of five star reviews and numerous awards including best stage production and best international show, along with a multi-platinum DVD that is sold in every corner of the world.

Australian Dance Theatre: Be Your Self
August 30

Room on the Broom
A CDP Kids Production
October 23

Jane Rutter and Teddy Tahu Rhodes:
Classical Heroes and the Art of Seduction
October 30

Tickets can be purchased for these shows, and all The Art House's 2017 line-up, from www.thearthousewyong.com.au or direct from the box office on 4335 1485

GOSFORD THEATRE COMPANY
The Gosford Theatre Company was formed in December 2015 by a small group of experienced, theatre based individuals with a view to presenting a wide variety of theatrical productions on the Central Coast.
Their mission is to provide an alternative and diverse theatrical outlet for Central Coast writers, actors, directors, stage managers, set designers, artists, musicians, choreographers and technical operators

EMAIL: gosfordtheatre@gmail.com
WEB: GOSFORD THEATRE COMPANY

---

LAYCOCK STREET THEATRE

Laycock Street, North Gosford NSW 2250

(located between the Pacific Highway and Henry Parry Drive, near the McDonalds roundabout)

Phone - Box Office: (02) 43 233 233;

Admin Office: (02) 4323 7299

WEB:

LAYCOCK STREET THEATRE

WHAT'S ON AT THE LAYCOCK STREET THEATRE For Bookings, Specials and Season Ticket information please see the Laycock Street Theatre Website

---

WHAT'S ON AT OPTIONS THEATRE COMPANY


We are a disability theatre company that's been producing cutting edge theatre and film since 2010

See our Youth Programs page for dance; Ballet, Hip Hop and open plus puppetry and theatre sports

---

PENINSULA THEATRE



Ocean Beach Road,
Woy Woy NSW 2256

Phone; (02) 4323 3233

Web:PENINSULA THEATRE

WHAT'S ON AT THE PENINSULA THEATRE

Woy Woy Little Theatre presents ...

Woy Woy Little Theatre is a non profit community theatre group. Our aim is to bring a diverse program of plays to the community.
The company was established in 1962 and is run by a passionate group of actors and theatre lovers.

We are the resident theatre company at the Peninsula Theatre, a 124 seat community based theatre owned by Gosford City Council and located on the corner of McMasters and Ocean Beach Roads, Woy Woy, where we present a season of three or four plays each year.

Monthly Play Readings
Play Readings are held monthly - you can just sit and listen or have a turn at reading a part in a play for possible inclusion in our subscription series. These play readings are held on the last Monday of each month in the foyer of the Peninsula Theatre at 7.30pm.
---
---

WYONG MUSICAL THEATRE COMPANY

WYONG MUSICAL THEATRE COMPANY


Wyong Musical Theatre Company Inc. is an amateur community theatre group.

Founded in 1996 by Sandra Plowright.

'Showline' details: 1902 260 527 (calls are charged at 50 cents per minute - higher for mobile phones and payphones)

WYONG MUSICAL THEATRE COMPANY WEBSITE

WHAT'S ON FROM THE WYONG MUSICAL THEATRE COMPANY



For more information visit the WMTC Website
---

Welcome to Whats On Central Coast

---
The Friends of the Performing Arts Precinct Incorporated are based on the NSW Central Coast Region of Australia and represent all forms of performing arts.
The Vision of the Friends includes:
* an acoustic Concert Hall to seat 1000
* a new Conservatorium of Music
* a regional Auditorium
* performance spaces for dance, drama, bands, singers
* a cultural display centre for Indigenous people
* cafes, public spaces!


---
~ THE GALLERY ~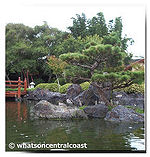 EDOGAWA GARDENS