central coast musicians reviews musos classifieds tuition showcases recording studios stores radio stations pa and lighting Simpson's solicitors

WHERE TO STAY hotels motels bed & breakfast caravan parks backpackers

SHOPPING markets & garage sales bateau bay square erina fair gosford tuggerah

TRANSPORT buses trains cars commuters

BITS n PIECES caterers whats on blog councils community testimonials advertise?

ARTIST REVIEW - LIANNA ROSE

ARTIST NAME: LIANNA ROSE - Vocals Guitar
Songwriter
GENRE: Folk Rock/Country/Roots


WEBSITE
LIANNA ROSE

LIANNA ROSE - THE BIO

The Genuine Rose:

The Australian Music industry has its own perfect Rose.

With a range of songs as diverse as life itself this popular multi award winning singer/songwriter is in full bloom.

Lianne Rose's exceptional songwriting ability, passion and quality, no pretence performances have been the hook that keeps her audiences wanting more and more. Her songs are sincere, funny, and poignant and they will touch your heart and senses with their realistic connections to all our lives.

With dedicated commitment, performing for over 15 years, Lianna Rose has opened shows for Australian greats such as Mondo Rock, Daryl Braithwaite, Sarah McCleod, Taxiride, James Blundell and Bill Chambers while also performing back up singing for Stevie Wright, Russell Morris and Max Merritt.
To add more credence to Lianna's talents she has been recently signed to Mushroom Music Publishing. In an almost unprecedented event Lianna was signed on a live performance without a finished product for Mushroom to hear.

"I only needed one listen to Lianne Rose's songs and I knew I wanted to sign her to Mushroom Music Publishing. Lianne is a singer/songwriter of tremendous potential and covers Country, Roots and Rock territory with ease. She writes from the heart with raw honesty, but can make you smile as well"
- Bill Page, Mushroom Music's Creative Manager.

Lianna Rose is a dedicated and passionate Australian singer/songwriter, performer worthy of any local or international stage.

© whats on central coast


---

LIANNA ROSE NEWS 2009:


2009 has been an amazing year for Lianna
She has recently released her Second Video Clip of the new single "I Want My Tractor Back"!
BUT as always for an Indie artist, she is needing a lil' help to raise the Video's chart position!
This week it sits at #32 on the Top 50 CMC Countdown! We would love that to be a lot higher so, if you have a spare minute, I would truly appreciate a click on the voting page to help the video make the Top 30 Countdown!!
CMC Country Music Channel Website
Once there log on and vote away, as many times as you like!
If you need more convincing check out our Lianna's awards so far...
* WINNER - "Rising Female Artist 2009" - Southern Star Independent Country Music Awards
* WINNER - "Independent Artist 2009" - Golden Saddle Awards 2009
* #5 HIT SINGLE "I Want My Tractor Back" National Country Tracks Top 30
* #3 HIT SINGLE "Jack" Top 50 Countdown Queensland Radio Top 50
* TOP 30 CMC VIDEO HIT "Jack" Country Music Channel Foxtel
* Songs from debut album featured on "Home & Away" & "Neighbours"
*Hit song "Jack" featured on highly acclaimed Paul Hogan movie "Charlie & Boots"

---

LIANNA ROSE - LIVE N LOCAL - Lizottes Restaurant - July 4 2007:

I remember years ago seeing Suzi Quatro on tour in Sydney. It was such a shock to see such a tiny vessel produce that amazingly powerful sound that I had been enjoying for so long.

I had these same thoughts when I heard Lianna Rose sing her first song at the recent Live N Local.

Where have I been to have missed this local dynamo? Under a rock?

Lianna's songs are an eclectic mix of humour, love, life on the road and all things in between. The music she puts to these words produce songs that just make you feel like a greedy Oliver wanting so much more!

I was so enthralled with Lianna's performance I did not think to grab a set list to place accurate titles to the songs I heard.

The stand out (for me anyway) was one that had described my own life in this work on many an occasion - "Am I Gonna Be Alright?", while we all had a smile with "I Want my Tractor Back". Other (weren't they all) notable ones were "New Guitar" and "Break The Sin".

I am presuming these will available on the pending new release CD.

Lianna Rose has recently been picked up by Mushroom Music Publishing. On the night Brian Lizotte gave notable praise regarding Lianna's musical journey and most of the performers I have been in contact with since the night are still talking about her amazing performance and presence... This lady has got it all on the way and deservedly so.

Don't be fooled by the Country genre tag - Lianna Rose will appeal to anyone who listens to music and is breathing!

Whats On Central Coast
is run by a true local, born in Gosford and is very proudly Central Coast & Australian owned and operated.

An extensive knowledge and a love of the area plus a genuine interest to promote all it has to offer is what sets Whats On Central Coast apart from the others.

So if you are looking for holiday, temporary or permanent Central Coast accommodation, a spot of Central Coast shopping, some brilliant Central Coast entertainment, a surf report before a dip in one of the many pristine Central Coast Beaches or a round of Golf followed by some fish and chips or maybe 5 star cuisine from one of the many Central Coast restaurants or take-away's you have definitely arrived at the right place..
We also have the resources to help with your wedding plans too!
Check the links above and also to the left and find all you'll need to enjoy a night out on the town or a whole holiday!

Welcome to my home town!
---
~ THE GALLERY ~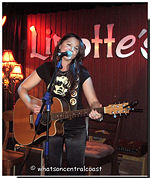 Lianna ROSE