central coast musicians reviews musos classifieds tuition showcases recording studios stores radio stations pa and lighting Simpsons solicitors

WHERE TO STAY hotels motels bed & breakfast caravan parks backpackers

SHOPPING markets & garage sales bay village erina fair gosford tuggerah

TRANSPORT buses trains cars commuters

BITS n PIECES caterers whats on blog councils community public internet cafes testimonials advertise?

NO PRESSURE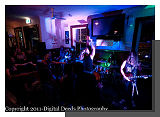 NO PRESSURE:
JB-HI STUDIO 52 MELBOURNE SCHOLARSHIP 2009 NSW WINNERS
No Pressure is an energetic rock band that is captivating audiences at many venues and events with their quality and enjoyable high-energy show.

No Pressure's sound has been described as classic rock, drawing on influences from a variety of great artists. These include the Rolling Stones & EasyBeats, through to Bon-Jovi as well as bands such as Whitesnake and the Screaming Jets.

The individual band members have much wider ranging and diverse personal influences.

No Pressure draws strong crowd response and interaction as classic 5 piece line-up.

The band is building a strong live following with the experience of having performed at well over 150 shows at many different venues and events throughout their time together.
Enjoying strong interest from crowds in their original sound, their live show varies with also having a full covers repertoire to party through the night with.

One of the bands original songs has recently been aired repeatedly on Southern Cross Ten's Saturday Music program 'Landed Music' adding to enthusiastic levels of exposure and interest they have received so far.

The band has previously enjoyed return performances 'live to air' on nationwide television on the channel 9 Today Show as well as 'live to air' performances and interviews on radio including SEA-FM, State-wide ABC Radio and 2TM Tamworth and worldwide on internet radio "indieshowcase" with a building fan base in countries at all corners of the globe.

Amongst the many live performances at pubs, clubs, festivals and other, these are some previous highlights for the band;
• Supporting iconic Aussie rock band 'The Radiators' NYE 2010 at Panthers Newcastle
• Support for - Dave Gleeson ('The Screaming Jets') Wamberal (private function)
• Gosford & Woy Woy Australia Day Celebrations live performances 2010 & 2011
• Cloud Studio Festival 2008 & 2010 (2010 with Phil Emmanuel joining the band onstage)
• 2009 Tamworth performance with 'Joe Robinson' guest appearance.
• 2009/10 Tamworth Country Music festival Performances and pub gigs
• 2010 Gibson Guitar Showcase performance (with guest appearance 'FloorBoards')
• Guest performer – 2009 Awards night 'Notes' at Newtown. (Best rock song & best rock ballad)
• NYE 2008/9 The Entrance Waterfront LIVE performance
• 2009 NSW Winners - 'KoolSkools' (Studio52 & JBHiFi, band scholarship)
• Central Coast Mariners grand final 'send off' Gosford Waterfront
• Finalist - Youth Rock 2009 (Sutherland Entertainment Centre)
• The Metro Theatre – Sydney (supporting 'Falling of One' )
• SBS TV 'the Crew' live footage & interview
• 'Scout TV' - Live Studio film clip & interview with Mark Gable ('Choirboys')
• Return live national television performances. ('The Today Show')
• Sun Herald, Disney Adventure magazine, Dolly Magazine & local media articles
• Live performance SEAFM 'Friday Live' sessions 2010 the 'Paddy & Ciel Show'
• Interview and live performance ABC RADIO Erina 'Scot Levi'– broadcast state-wide
• ABC live performance has since been used on air on ABC radio
• Live to air performance & interviews Coast FM
• Live to air performance and interview Tamworth 2TM
• Single (available on iTunes) 'Punk Princess'
• GOATS festival compilation CD
• Studio recording - Self titled EP – Cloud Studio's (Parris McCloud, Mastered by Colin Abrahams)
• Studio recording – Melbourne 2009 'Framed' (Self Produced demo CD) (Studio 52 – Melbourne)
• Studio recording – Melbourne 2010 single 'Paybacks a bitch' (Studio 52 Melbourne)
• Film clip for song 'Paybacks a bitch (Studio 52 Melbourne)
• Song and clip 'Paybacks a bitch' included on "Alpine Uncovered Vol 2" (Empire Records Melbourne).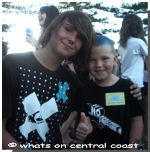 NO PRESSURE:
There was something in the wind bringing an optimistic yearning for the arrival of 2009.


While there was much brilliant local entertainment to be had around the Coast, I was spreading the Whats On word down at The Entrance and assisting with the merch table for Peter Healy and the Hurricanes huge New Years gig on the Memorial Park Stage to thousands of happy revelers.

All revved up but a little late for the start I was set further into celebration mode with a rockingly brilliant rendition of Blink 182 on my arrival. I was looking for the source of this but could only see a young group of kids on the stage that surely couldn't be THAT good... surely.... WOW!!!

The boys continued their attempts to blow my socks off with more excellently performed covers of, Hard To Handle, Bad Boy For Love, TNT, Evie, Better, Long Way To The Top, Highway To Hell and Marseilles to name but a few.

Honestly these young kids would be at home and setting off sprinklers in any major covers venue such is their talent. Yes I keep saying young as they are only 14 year old boys, still in school but obviously with a passion for music.

Their original work I still have to have more of a listen to (my grandson took the CD before I had a chance to hear it - they now have another number one fan) but the quick listen while they were performing them live sounded well written and composed for guys of so few years, with perhaps only a tad more polish to be applied as they grow.

The extremely professional stage set up, merchandise and overall marketing approach show that the guidance and advice these guys are receiving is well planned and knowledgeable.
A brilliant start for sure for anyone starting in the industry. That was almost as much of a pleasure to see as was the music to hear.

While I do love discovering new and original music I have to admit these young lads took me back in time to the fabulous times of small stages with Doc Neeson, Angry and all the now 'old bands' that these young kids would obviously loved to have seen.

If there was that scale of one to ten to place this band on the talent meter the first thing that comes to my mind is 'Hey Keef - Turn it up to eleven'!
Outstanding!

Whats On Central Coast
is run by a true local, born in Gosford so it is very proudly Central Coast and Australian owned and operated.

An extensive knowledge and a love of the area plus a genuine interest to promote all it has to offer sets Whats On Central Coast apart from the other 'local' sites.

So if you are looking for holiday, temporary, or permanent Central Coast accommodation, a spot of Central Coast shopping, some brilliant Central Coast entertainment, a dip in one of the many pristine Central Coast Beaches followed by some fish and chips or maybe 5 star cuisine from one of the many Central Coast restaurants or take-away's you have definitely arrived at the right place.

Check the links above and find all you'll need to enjoy a night out on the town or a whole holiday!
Welcome to my home town.
---
~ THE GALLERY ~