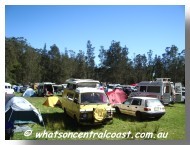 HOW I LOVE TO WAKE TO THE SOUND OF A SOUND CHECK IN THE MORNING!
A couple of the What's On Central Coast crew were two of the many thousands of music lovers that were part of the Peats Ridge Festival for 2005 this last week-end (December 9 - 11 2005).
On short notice the decision was made to cover the whole week-end... pack the tent, grab some chow and hit the road.
A huge congratulations to the organisers of the event. It was an exceptionally awesome gathering of fine food, fine wares, fine weather and fine talent.
The Peats Ridge Festival was a musical world unto itself with much cultural and artsitic diversity, a sustainable environ for the inhabitants and so many fine trimmings and assistance, you wanted for nothing.
This festival was a sure fire success and Peats Ridge Festival is sure set to be a regular insert on the Central Coast Claendar with, once the word spreads, much national and international interest methinks.
Special congrats to the local performers who took part, many of them were on par with some of the top billed international acts.
With so many stages and so many acts to see it was a job to keep up with the program and the time but we got to catch so many performances from such a wide range of artists..
The ones that were more notable were,
Hat Fitz and Itchy
,
Rocwater
,
Dr Goodvibe
,
Ask Bob
, Rubix Cuba, the Briggs and Simpson duo of The Stiff Gins, The Red Eyes,
Rendra Freestone and the Rhythm Hunters
and Lior.
Desert Flames' Alexandra had the audience holding their breath when she did one of her dances while balancing two swords on her shoulders and then her head. A very deserved standing ovation was most gracefully accepted.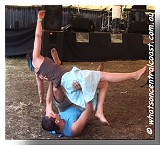 Another interesting dance item was one by a couple of visitors to the Festival. Alejandro and Jonathan not only had the crowds attention but the stage performers as well with their intriguing
"Contact Improvisation"
style of dance. With subtle touch and fluidity combined with an ever so gentle and tender aura to the dancers this dance is sure to catch on fast. This form of dance encourages mindful awareness and mutual exchange 'making contact'. There were a few quite interested onlookers and the principals of the dance studio Alejandro and Jonathan were only to happy to give some impromptu lessons whenever and where ever they were dancing.
You can get more information on the dance, lessons and the dancers by contacting Alejandro by
e-mail
or phone on; 0401 340 093.
The three days of music in review follow below....
---
---

DAY ONE; THE MUSIC:

Ok, so in the rush we didn't pack a few things... doesn't matter, it's all here, fantastic! OK, Lets see what we can see here.
READ MORE >>>
---

DAY TWO; THE MUSIC:
A weary yet gloriously satisfying awakening.
The breeze in the trees, the birds singing and the sound check from the main stage, awesome!
Now where's the coffee to make it perfect?
READ MORE >>>
---

DAY THREE; THE MUSIC:

Another sound check first thing in the morning and all is good. Oh no... it's Sunday, leaving day...
OK so up and at 'em and strip down the portable accommodation pack the truck and enjoy what time we had left of the day.
READ MORE >>>
---

PEATS RIDGE FESTIVAL- THE FESTIVAL


THE FESTIVAL:
Overall this festival would have been one of the best as far as organisation and the impact on the environment were concerned. Entry wasn't a major drama and although we weren't in the peak hour entry there were many punters waiting checks to get in.
The facilities that were provided were both thoughtful and functional. The crowds in attendance were obviously from a broad spectrum of music genre lovers, they all got along extremely well in this peaceful and serene setting. Many of them, including yours truly, getting a sample of a different style of music and musicianship they may not have otherwise encountered.
The security was not only visible and prolific but they were also not in great demand. There were no ill attitudes they were all very amicable. They seemed to have ample opportunity to enjoy this week-ends work.
The St Johns ambulance volunteers as usual were on hand and there were possibly more services supplied that on our wanderings, we just didn't get to see.
The many volunteers on hand for different stalls and tents were as helpful as the best customer service personnel from any major store. They were obviously happy to be there and they shared the joy with those they came into contact with. They were a credit to the festival.
The fine array of international cuisine had you looking forward to the next meal so you could sample some more fine fare. There was no concern of weight gain there was too much to see and do to keep you active.
You didn't want for anything. I had given up the camping ideal a while ago but this was wonderful. The wildlife, the bird life the surrounds, all made this one exceptionally perfect place to hold this exceptional music gathering.
I am all eager for next years installment where we will be so more organised. Who knows we might actually take some time out from the work side and not take notes... :)

OTHER HIGHLIGHTS NOT REVIEWED:
The Rainbow Garden - Children's Festival
Nestled among the trees, The Rainbow Garden is a magical place inviting children (from toddlers to teens), to safely explore and play in the natural environment with plenty of comfy space for parents to relax and chill out. Here you will find storytelling sessions, mask making workshops and an interactive music workshop designed to encourage musical play through jamming.
---
Peats Ridge Festival in conjunction with Australian Generator company
PremiAir Hire
will make history by being the first major Australian event to run entirely on Renewable Energy. Peats Ridge Festival will achieve this by running all generators at the festival on Australian Manufactured Biodiesel – the fuel of the future. Craig Garner of PremiAir Hire says "PremiAir Hire is proud to be associated with the Peats Ridge Festival - its our way of being an environmentally friendly company. This could be the benchmark for future festivals and is very exciting !" www.premiairhire.com.au Biodiesel is made from an oil that can be sourced from cooking oil, grown on the farm or taken from algae in shallow ponds. It is non-toxic, non-flammable and biodegradable and the production of Biodiesel has no waste products. Biodiesel is 10 times less toxic than salt in fresh water and breads down to simple hydrocarbons when exposed to bacteria in soil Biodiesel contains no Sulphur, no Benzene, has greatly reduced carbon monoxide and up to a 70% particulate reduction. There are zero modifications required to run biodiesel in any existing diesel engine and Biodiesel mixes with petroleum diesel. Almost any source of oil/animal fat can be used to produce Biodiesel, as can Methanol or Ethanol. Nearly 300 tonnes of waste oil/fat is disposed of every week in NSW alone. Now there's a nifty way to re-use that chip fat!