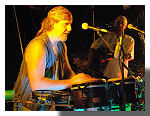 SINCLAIR AND KING:
Ron Sinclair & KingRhythm (aka Phil King) are a very popular act playing mainly around the Central Coast. They met at the Tamworth Country Music Festival in 2003 & got together to play when they arrived back on the Coast.
It turned out to be a good move, & they quickly built up a loyal following of fans of all ages. Their unique combination of guitar, hand drum, percussion & harmonies has struck a chord with many in the audience & has led to invitations to play at a number of prestigious events, as well as national & overseas interest & opportunities.
Ron Sinclair is a well respected performer who has lived on the Coast for many years, building a repertoire of hundreds of great songs, ranging from the 50's all the way up to contemporary artists' hits from Black Keys, Pete Murray, Kings Of Leon & Bernard Fanning. Ron has shared the stage with some of the Coast's most famous performers as well as holding residencies at some of Sydney's best live venues, wowing many music lovers with his enormous repertoire and great voice.
KingRhythm, aka Phil King, has been playing hand drums much of his life & regularly performs with popular artists all over the country. Phil combines his unique style of playing Djembe with contemporary music styles. He has played a number of major Blues & Music Festivals, sharing the stage with the likes of Chris Wilson, Matt Corcoran, Juzzie Smith, Phil Emmanuel & Phil Manning, as well as opening shows for popular artists Richard Clapton, Jimmy Barnes, Diesel & IOTA, capturing the attention of audiences with the spirit & energy of his drum. He is also a regular and passionate member of Brackets and Jam on the Central Coast.
The duo's style of music encompasses a vast range of songs from old classics to new bands. With their strong vocals and driving rhythms the duo tackle some interesting choices of material, and it's not unusual to hear "Maroon 5" and "Tom Jones" in the same set. And NO midi files….it's all live energy!
2010/2011 saw the boys invited to play at Humpty Mick's Cafe on the beautiful Lord Howe Island, where they quickly made a name for themselves amongst locals and guests alike, playing a number of sellout shows at the Cafe. This tour has now become a regular event in everyone's musical calendar.
Ron Sinclair & KingRhythm continue to play some killer shows to packed houses, opening for such noteworthy Australian acts as Jenny Morris, Choirboys, Glen Shorrick & Darryl Braithwaite. Audiences are witness to the unique energy that these 2 guys generate....the ACOUSTIC ENERGY their fans just can't get enough of!