artists + bands reviews musos classifieds music tuition recording studios stores radio stations

WHERE 2 STAY hotels motels b & bs caravan parks backpackers

SHOPPING bay village erina fair gosford tuggerah

TRANSPORT buses trains cars

BITS n PIECES caterers real estate agent councils testimonials advertise?

PROFILE - THE SOUL SESSIONS


EVENT:
The Soul Sessions
PERFORMERS:
Peter Healy, Colene Crawford, Dayle Hutchin, Dave Ward, David Underwood, Michael Smith plus guest performers each week.

GENRE:
Rhythm, Soul, Blues

CONTACT:
Email

THE SOUL SESSIONS - THE PROFILE

THE SOUL SESSIONS :

Peter Healy, award winning songwriter, poet and actor has shared the stage with some of Australia's finest blues and roots musicians, including Phil Emmanuel, Matt Corcoran, Kirk Lorange and Phil Manning.

His new project and band The Hurricanes are the perfect apex to the aspirations of this brilliant artist, as is the new weekly sessions at Sirens Terrigal, THE SOUL SESSIONS.

"Finally! The best band I've ever had."

Musical journeyman Peter Healy is quietly excited about his new band. The award winning songwriter musician has put together what's been described as a fantastic layered musical experience and will showcase the new unit over a 6 week period at Siren's nightclub in Terrigal.

"Residency's don't seem to happen much anymore" he said "and it's a great bonus for us to work our entire repertoire in a live situation prior to summer touring"

This will be a great opportunity to see and hear this stunning new band. The vocal section, with 4 part harmonies, features the wonderful Colene Crawford who has toured in major shows with Doug Parkinson and Rick Price.

The four vocalists have featured recently at Lizottes.

What makes the band so special? Those harmonies for one thing.
"The human voice in harmony reaches right in and touches the heart" said Healy. After touring in Africa several years ago he was greatly moved by the power of vocal harmony but until recently was unable to find a combination that would work here.
"Finally, we have the magic" he said. "You play with some people and it's OK. Good even, but every so often, if you're lucky, you find a group of people who have that special magic. These guys have it!"
"We've also got the best drummer for miles" (Michael Williams), The ever reliable David 'Krusty' Underwood (ex button Mushrooms) on keyboards and bass, two great guitarists (Healy and Dayle Hutchin) with the cream on the cake being provided by saxophonist David Ward, a veteran of the Sydney jazz scene. "Don't be fooled by the jazz thing, this guy can rock!"
Great songs too! Mostly original work, spiced with some tasty cover songs that the band enjoys playing in their own style.

"It's based in the blues, but stretches from country reggae through soul with tinges of gospel to funky rock. Pretty eclectic really."

"We're planning a quite diverse series of shows" he states. Full band and also an acoustic 'unplugged' section, plus a special guest artist each week.

Recording and a Live DVD follow (there are 2 albums currently available).
Peter Healy and the Hurricanes – 'The Soul Sessions' – Sirens Nightclub, Terrigal. 7pm Sunday October 12 (after the Terrigal Food and Wine Fair) and every Sunday there-after.

THE SOUL SESSIONS - THE REVIEW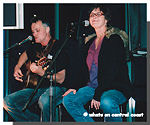 SUNDAY NIGHT SOUL:

When the Sirens call - listen well...

With life's responsibilities keeping me away from some great entertainment of late, the Sirens and the cosmos where in perfect accordance tonight.

The very first installment of the Soul Sessions was a brilliant success.

With a full 'new and improved' big band, Peter Healy and the Hurricanes not only entertained but painted the whole venue with an inspired and friendly atmosphere where happiness was abound.

The signature Healy tunes were much fuller with four part harmonies and the exciting and most welcome return of some wonderful sax from Mr. Dave Ward.

The night was spilt in half by an acoustic set in which the harmonies and the voice of Coelene were utilised to perfection. It was a stirring and different addition to the gig and I for one had a tear in my eye and a tingle with some of the renditions.

This is a first rate show, not just a performance. Few, if any venues these days that stick to solo/duo performers with magic boxes would house such a band. This is not an act you will see tucked in the dark corner of a tiny pub, yet it was still only $7 to get in.

If this wasn't enough see the future gig guides for the Special Guest list to be performing with Pete and the band at Soul Sessions.. On the way is Max Hay, Lianna Rose, Dai Pritchard (Rose Tattoo), Phil Emmanuel and recently returned from a successful European tour Mr Dan Granero.

For those of us who work the week-ends and those that want to round off the week end with some brilliant, local, original music, the Soul Sessions could become your new favourite show.

These comments sent and reported to Whats On by recent punters to the Soul Sessions -

1) * "Soul Sessions" Sirens Nightclub Terrigal 26/10/08'
Peter Healy and the Hurricanes just raised the bar for live music on the Central Coast this evening an ideal setting and a very attentive audience made for a fine showcase of local artists.
I was greeted at the door by a dear friend who greeted everyone warmly and directed me to a comfortable couch with which to enjoy the entertainment. The bands lineup of Peter Healy:- guitar, vocals and harmonica, Dave Underwood:- keyboards, bass, vocals and percussion, Dayle Hutchin:- guitar and vocals, Dave Ward:- tenor saxaphone, Mike Williams: - drums and percussion and a brilliant vocalist named Colleen who I failed to meet on the night and was blown away by her vocal dexterity.
Also on the night a fab guitarist, vocalist from the US Max Hay. You could hear a pin drop throughout his performance, he made many friends on the night and it was sad to see him head back home.
Peter Healy's songs were given a new life from a fine band of musicans. I'm sure those folk who have his albums would enjoy their live interpretations.
The way was open for each soloist to display their talents and let us all know that the Hurricanes are in the house and prepared to send you home waiting eagerly for the next show.
As Molly Meldrum says "do yourselves a favour" catch these shows while they are in town. Jim Heywood coming back for more!!!!"

2) * "I am amazed at the quality of the entertainment here tonight... Talent of this calibre is usually only found in Sydney at The Basement and similar places... so pleased to have it on the Coast at our own back doors... "
Avid original music fan...




Whats On Central Coast is run by a true local, born in Gosford and is very proudly Central Coast & Australian owned and operated.
An extensive knowledge and a love of the area plus a genuine interest to promote all it has to offer is what sets Whats On Central Coast apart from the others.
So if you are looking for holiday, temporary, or permanent Central Coast accomodation, a spot of Central Coast shopping, some brilliant Central Coast entertainment, a dip in one of the many pristine Central Coast Beaches followed by some fish and chips or maybe 5 star cuisine from one of the many Central Coast restaurants or take-aways you have definitely arrived at the right place..
Check the links above and also to the left and find all you'll need to enjoy a night out on the town or a whole holiday!
Welcome to my home town.
---
~ THE GALLERY ~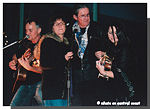 Peter Healy's
Soul Session Acoustic
Peter Healy