central coast musicians reviews musos classifieds tuition showcases recording studios stores radio stations pa and lighting Simpson's solicitors

WHERE TO STAY hotels motels bed & breakfast caravan parks backpackers

SHOPPING markets & garage sales bateau bay square erina fair gosford tuggerah

TRANSPORT buses trains cars commuters

BITS n PIECES caterers whats on blog councils community public internet cafes testimonials advertise?

WHATS ON
CENTRAL COAST
What's On Central Coast is a Central Coast and Australian owned and operated website that was initially a concept to give our bountiful source of musicians a web presence while also assisting our local tourism industry.
It started back in early 2004.

This exciting and dynamic idea grew into one of the most informative websites that is dedicated to The Central Coast of New South Wales.

It has made Central Coast history by being the only website of its kind to break the ONE MILLION visitor barrier. It now stands at 1.8 million (as at 6th January 2017) and more than 6,500 Likes on our Facebook Page

What's On Central Coast has become the one stop spot, not only for music and entertainment but also for tourism and the community.

Perhaps it's the 30 years plus Music Industry experience, the extensive Music Business knowledge, the many and varied services or the continual support Whats On has and will continue to provide our local industry members, that has given Whats ON Central Coast it's most trusted and reliable reputation.

It could be the extensive knowledge and passion for the town where Whats ON's founder was born, why locals turn to the true local for their information or let them know of it.

It may be the long term mutual respect, appreciation and relationships of many and varied local people and businesses that have forged over the years that have so many regular and new visitors daily.

Whichever reason, the many wonderful TESTIMONIALS received is a sure sign we are doing something right!

With the stats come the availability to further promote many charity, music, markets or business events. We are also able to confidently promote your business via our budget advertising rates.

So whether it be a place to sleep, eat, shop, swim or dance, you are sure to find it here on Whats On - the history making local website..

What's On has already assisted many locals and domestic visitors with weddings, parties, long or short week-end stays, holidays and entertainment.

What's On Central Coast has also provided many an international visitor with information on all things local, from accommodation, where to eat and what to do, to information on local water restrictions and community events and organisations.

So, grab the beverage of choice, I'll pop the kettle on and we can sit back and take a tour of the region where I was born.

I know you'll love it; just like a million other people do!

Welcome to my home town.

Cheers and thanks for popping by!

Deb Lalor
---
Websites are just that - a site of one or many pages on the World Wide Web that is hopefully full of the information that you are looking for.

Words and images on a screen - some say the dehumanisation of society...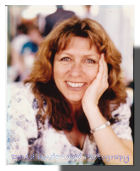 So to rectify this sensation...

HI - My name is Debbi - I am a real person, I have Kids, I have cared for my aging mum who passed away in 2010, I have a hectic life, a wonderful grandchild and this website.

I am honest, ethical and old fashion mannered. I am a Justice of the Peace for the state of NSW and I have a well used soap box for when wrongs are committed, the underdog cops a beating and local national or international issues are just so wrong they scream for our united voice for rectification.

I am the person on the other end of any email or contact you send to Whats On Central Coast.
Every image that is taken, resized, tagged stored and uploaded, every story that is typed or media release that is uploaded is all done by me.
Research? Yep! Me! I also try to follow local issues and keep you updated whenever I can.

It is, has been and from the rapid growth in visitors and stats, will continue to be an almost full time job so if sometimes I am a little late in responding I have possibly nodded off at the keyboard or have been kidnapped by my kids or loving friends to escape the screen - but I will get back to you.

Having done this for more almost 10 years I feel that many visitors are unsure of who or what will answer their enquiries and when.
Many of us feel the 'mechanisation' of contact with websites - I too have felt this with many; Especially the really big ones.

If you would like information just ask, If I can help you with anything music or Central Coast, just ask. If you have a cause you would like known, a fundraiser or a response to a blog just contact me.

Please don't feel that Whats On is just a website. It is words and images on a screen for sure but they are posted with passion and love for the Central Coast, her brilliant music industry, residents and visitors.

Cheers
Deb :)
---
The Coastal Way
We are known by many as a one for all
Trusted to be there when others may fall
To lend a hand, to support to give
whatever we can to fix where you live.
Because it is the Coastal way.
We are loved for our community spirit
to help others up when they're stuck in it.
We'll help the cause and the fight
To turn that wrong into a right.
Because it is the Coastal way
Our pride in our region is true blue
No longer a secret to a lucky few.
We invite you to have a look and to stay
Our hospitality is the Aussie way.
Because it's also the Coastal way.
© 2012
---

SEARCHING?
Can't find that recreation club you're after? Then try our comprehensive listing of the major clubs on the Central Coast. Just click on the Social Clubs link above to find what you've been looking for. If you can't find it, let us know and we'll find it for you.
---
LOST?
Can't find your favourite band, duo or solo artist here ... let them know about us, or leave us their details and we'll try to track them down for you. If you are a new act, leave your details so we can tell the world you're here. We're only one click away!
---
FOUND?
If you need to know what's happening on the live music scene this weekend, then you've arrived at the right place. Click on the gig guide link above for all the info you'll need to plan your night out over the entire weekend or into next week
.