central coast musicians reviews musos classifieds tuition showcases recording studios stores radio stations pa and lighting Simpson's solicitors

WHERE TO STAY hotels motels bed & breakfast caravan parks backpackers

SHOPPING markets & garage sales bateau bay square erina fair gosford tuggerah

TRANSPORT buses trains cars commuters

BITS n PIECES caterers whats on blog councils community testimonials advertise?

Here you will find Restaurant and Dining, live performance artist reviews,
various CD reviews, event and festival reviews and even
some Music technical hardware reviews.

Just click the links in the yellow boxes below
to go to your review type of choice.

If you are a performer who would like their new work promoted and reviewed please send an email to contact@whatsoncentralcoast.com.au or via the CONTACT US page.
DigiTech-GNX4

Click information icons and a new window will open.
Know a business worthy of a little praise, appreciation, some free advertising and a gold star?

The Gold Star Business awards will be returning SOON!

In the meanwhile, if you have a LOCAL business you would like to submit a review for please go to our

contact page

and we'll let the world know!

INTERVIEWS


MYSTERIOUS TRAVELLERS:
An interview with John Prior:

This is a Whats On First!

A rare and much appreciated interview with John Prior from the new MYSTERIOUS TRAVELLERS band.

The Mysterious Travellers outfit include some of the nations most talented and well respected musicians and songwriters.

Check this line up out....
• Dale Barlow - sax (Dizzy Gillespie, Art Blakey, Billy Cobham)
• Fabian Hevia - percussion (Lulo Reinhardt, Catholics, Wanderlust)
• John Prior - drums (Adrian Belew, Jackie Orszaczky, Matt Finish)
• Bill Risby - keys (Bobby Shew, William Galison, Maria Schneider)
• Phil Scorgie - bass (Lee Ritenour, Crossfire, Daly Wilson Big Band)


THE INTERVIEW....
DEBBI (Whats On Central Coast) - Hi John, Thanks for your time.
Mysterious Travellers is a star-studded band with an image-conjuring name, where did it originate?
JOHN PRIOR - Hi Deb, thanks for asking! We named our new band Mysterious Travellers because we're performing a tribute to the jazz-rock-world-groove music (or "fusion") of Weather Report and that was the name of one of their early albums.
Also, the musicians in our band – Dale Barlow (sax), Bill Risby (keys), Phil Scorgie (bass) and me (drums) - like to travel and apparently we can seem a bit mysterious before you get to know us.
WOCC - Why perform a tribute to Weather Report?
JP - Well, it was a toss-up between Weather Report and Kiss, but the costumes didn't fit. Seriously, we just love Weather Report's music, it's so melodic and uplifting and a wonderful balance between composition and improvisation.
WOCC - Which members of Weather Report most influence the band members of Mysterious Travellers – who is whose favourite?
JP - We all admire Joe Zawinal (keys) and Wayne Shorter (sax), who both worked with Miles Davis before forming Weather Report, because they were leaders in their field, and Jaco Pastorious is generally considered to be one of the greatest bass guitar virtuosos ever, he basically reinvented how to play bass. They had a few drummers, but my favourites were Alex Acuna, Peter Erskine and Omar Hakim – all brilliant.
WOCC - What's in the repertoire? Any originals?
JP - We've chosen some of the best-known Weather Report songs and some obscure faves, plus some of our originals. Like Weather Report, everyone in our band composes.
WOCC - What is involved in the Masterclass?
JP - The masterclass is designed for music students and Weather Report fans. Dale teaches at the Sydney Conservatorium of Music and Phil teaches at JMC Academy, so they know what Bill is talking about, although Dale and I tell the most jokes.
We will discuss and perform music by Weather Report, jazz-groove composition, arrangement and improvisation and talk about our experiences working with musical legends Art Blakey, Dizzy Gillespie, Billy Cobham, Adrian Belew and Lee Ritenour.

Whats On Central Coast
is run by a true local, born in Gosford and is very proudly Central Coast & Australian owned and operated.

An extensive knowledge and a love of the area plus a genuine interest to promote all it has to offer is what sets Whats On Central Coast apart from the others.

So if you are looking for holiday, temporary or permanent Central Coast accommodation, a spot of Central Coast shopping, some brilliant Central Coast entertainment, a surf report before a dip in one of the many pristine Central Coast Beaches or a round of Golf followed by some fish and chips or maybe 5 star cuisine from one of the many Central Coast restaurants or take-away's you have definitely arrived at the right place..
We also have the resources to help with your wedding plans too!
Check the links above and also to the left and find all you'll need to enjoy a night out on the town or a whole holiday!

Welcome to my home town .


TWANG THE DRUM
Tim Gaze and Rob Grosser
MATT FINISH
JOSEPH CALDERAZZO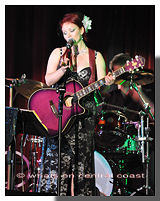 THE SELTIC SIRENS
Tahlia Racz