central coast musicians reviews musos classifieds tuition showcases recording studios stores radio stations pa and lighting Simpson's solicitors

WHERE TO STAY hotels motels bed & breakfast caravan parks backpackers

SHOPPING markets & garage sales bateau bay square erina fair gosford tuggerah

TRANSPORT buses trains cars commuters

BITS n PIECES caterers whats on blog councils community testimonials advertise?

REVIEW - ADAM HARVEY

NAME:
Adam Harvey

GENRE:
Country

INSTRUMENTS:
Singer/Songwriter
Guitar

WEBSITE:
Here

THE REVIEW

ADAM HARVEY: Macron Music - Saturday 29.10.2005:

As Slim Dusty sang in his song, 'Country has been here all the time' and most of those folks that have not been overly exuberant fans of country music possibly, sadly, agreed.

A new breath of air has revived, for so many, the appeal that country music has and will always have in this great country of ours.

Gone are the days of the favourite super cattle dog becoming road kill by the eighteen wheeler that stole the woman. Chad, Tex, and Slim will always have a place in the hearts of those that were raised in country towns (yes, the Coast used to be one of those) and on country music but the big hearted country folk, always have room for more.

The new 'next generation' country artists have included more modern day scenarios, a little less twang in the music and, as in Adam Harvey's case, a lot more humour.

Although Adam is well known for his happy go lucky character he can still pen a heartfelt ballad and sing a traditional song or two as well. This talent has won Adam many awards and even seen him on stage at the Grand Ole Opry. On Saturday (29.10.05) he had the audience captivated by a few of his songs 'I Want My Rib Back', Working Overtime', 'The House That Jack Built' and 'Doghouse' from various albums he has released.

If you missed the humourous and informative special feature on Adam Harvey on tune in again next Sunday 13.11.2005, for more music and anecdotes from this Central Coast charismatic character of country music.
---

© whatsoncentralcoast.com.au

---

---


Whats On Central Coast
is run by a true local, born in Gosford and is very proudly Central Coast & Australian owned and operated.

An extensive knowledge and a love of the area plus a genuine interest to promote all it has to offer is what sets Whats On Central Coast apart from the others.

So if you are looking for holiday, temporary or permanent Central Coast accommodation, a spot of Central Coast shopping, some brilliant Central Coast entertainment, a surf report before a dip in one of the many pristine Central Coast Beaches or a round of Golf followed by some fish and chips or maybe 5 star cuisine from one of the many Central Coast restaurants or take-away's you have definitely arrived at the right place..
We also have the resources to help with your wedding plans too!
Check the links above and also to the left and find all you'll need to enjoy a night out on the town or a whole holiday!

Welcome to my home town.
---
~ THE GALLERY ~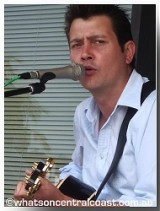 ADAM HARVEY