central coast musicians reviews musos classifieds tuition showcases recording studios stores radio stations pa and lighting Simpson's solicitors

WHERE TO STAY hotels motels bed & breakfast caravan parks backpackers

SHOPPING markets & garage sales bateau bay square erina fair gosford tuggerah

TRANSPORT buses trains cars commuters

BITS n PIECES caterers whats on blog councils community public internet cafes testimonials advertise?

EVENT - Amplify To Unify TAFE 2005 Band Competition




EVENT:


Certificate lll, Music Industry Skills
Business Course Ourimbah Campus Class 2005

TYPE:
Band Competition

VENUE:
Iguanas Waterfront Bar and Restaurant, Gosford

WHEN:
June 26 2005

THE REVIEW

TAFE BAND COMPETITION 2005..


From What's On Central Coast June 25 edition...
" This event was totally organised from start to finish by the Cert lll Music Industry Skills - Business class from the Ourimbah campus. Not only did these kids excel at showing just how much they have learned throughout the course by staging a most successful event, they also succeeded in raising more than $1,000 for the Red Cross that will be spent on the Central Coast underprivileged and residents in need".

A few years ago I was introduced to two extremely wonderful people. Mr Rob Grosser and Mr Gary Lawler, two teachers from the Music Industry Skills - Business course at (at that time) Wyong campus, TAFE.

Mr Lawler is no longer a part of the course but it is now in the most capable hands of Mr Rob Grosser (ex Aliens, Hardcase, Great Dane and more recently Lucy DeSoto and Don Hopkins).

This course opens the mind to the little facets of the music industry that are often not thought of when venturing onto the path to stardom. The success rate from this course is exceptional. The knowledge it imparts is an absolute must to treat and be treated as a professional all aspects of career's in the Music Industry.

It would appear that nothing has changed. This event that was staged by the class of 2005 was on par with any music event in comparison that I have been fortunate enough to attend. Venue, PA, bands, advertising, recording, the list goes on and all was taken care of. They even went a step further to organise with the Red Cross that proceeds would be donated to the local needy.
The amount halfway through the night that had been raised was over $1,000.

The MC's for the night were Sean Saville and Johnny Needham. Neither were obviously daunted by being on the stage. They had fun and made the crowd feel a part of the night while introducing the bands and organising the drawing of door prizes.

Eleven bands are on the compilation CD from the competition, including the final five bands that performed on the night.

If you wish to purchase a copy of the CD enquire here.

The class obviously chose well as far as sponsors went.
* The venue was supplied by Iguana's Waterfront Restaurant and Bar and it has been reported that they were also quite taken with the level of professionalism to the point they would do the same again.
* Full House Records were in for the production of the CD that was mastered by Mr Grosser at Disgracelands Studios.
* First prize was an amp valued at $1,000 compliments of Steve Forest Music and Ashton Music .
* Free rehearsal time was another prize donated by local talent supporters and all round nice guys Central Coast Rehearsal Studios.
* The security and VIP lanyards were supplied by Wizid while other sponsors and supporters were Sonor Drums, Campus Central Ourimbah TAFE, Beachbound and Coca Cola.

The attention to detail and the professional way in which this gig was organised is a credit to the TAFE for sure but it will be an awesome entry on the CV's of all those participating class members who really did a really fantastic job. Congratulations!
---

© whatsoncentralcoast.com.au

---

---

The most comprehensive coverage of live music on the Central Coast of NSW starts here. If your favourite venue does not appear on our guides send them an invitation on our behalf. We would just love to have them come aboard.
---
~ THE GALLERY ~
Shiver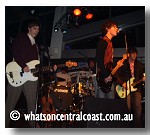 The Vans