central coast musicians reviews musos classifieds tuition showcases recording studios stores radio stations pa and lighting Simpson's solicitors

WHERE TO STAY hotels motels bed & breakfast caravan parks backpackers

SHOPPING markets & garage sales bateau bay square erina fair gosford tuggerah

TRANSPORT buses trains cars commuters

BITS n PIECES caterers whats on blog councils community public internet cafes testimonials advertise?

ARTIST REVIEW - BEC WILLIS AND FRIENDS

MEMBERS:
BEC WILLIS - Vocals Guitar
JENNY MARIE LANG - Vocals Guitar
SEAN RUDD - Bass Electric Upright Double Bass GENRE: Country

WEBSITE
BEC WILLIS

BEC WILLIS AND FRIENDS

BEC WILLIS AND FRIENDS:

Arriving later than expected, as often happens in this biz, I was in time for the last set of this amazing trio of obviously good friends who were so well connected on stage.

Being late may have been a blessing as the crowd was very warmed up and loving every note sung or strum that was emanating from the stage.

On the stage Bec, Jen and Sean have such a relaxed and friendly relationship that you feel so welcome and almost part of the family.

We were all entertained by a mix of both Bec and Jens original works plus some classic cover songs that were in themselves excellent to more appealing than the original versions.

I have always loved "Blue Bayou" and these guys did it so well. The harmonies of angels bring this classic song to a new life. "What If God Was One Of Us" was also, for me anyway, a more appealing version of this commercial radio overplayed tune.

Bec's original, 'Scared' was a hit as was Jenny's 'Even Ground'. Both songs played as if the three collaborated in the writing and arranging!

The singer and songwriting skills were not the only things we were blessed with this day.

Sean played a great Bass guitar but the Electric Upright Double Bass was awesome and so interestingly different as was the exception Mandolin work by Jenny on "Traveling Soldier".

The variety and surprises didn't stop there - Bec also played harmonica on a brilliant version of "Come Together" as well!

This trio could almost pass as a big band with the variety of songs, vocals and instruments that are presented to their audience.

I will endeavour to catch a whole show at some stage and I suggest, if you like your music, both original and covers played with obvious talent and consideration Bec Willis and friends MUST be on your list of "must see soon" acts.

Bec Willis' debut album also adds credence to her capabilities. Why you may ask?

Local Aussie music icon Kasey Chambers only had to hear one song of Bec's at a chance meeting and she just knew the talent that lurked within this performer.
So much so, she offered to produce an album for Bec. The new album also featured a few of Australia's other elite musicians including Bill Chambers and Kasey's long-time bass player, Jeff McCormack.

Have a listen to some of Bec's work on her BEC WILLIS MYSPACE PAGE and then you may want to buy Bec's album which is available from her web site BEC WILLIS.

Whats On Central Coast
is very proudly Central Coast and Australian owned and operated.
Whats On is run by a true local, born in Gosford.
What sets Whats On Central Coast apart from the others?
An extensive knowledge and a love of the area plus a genuine interest to promote all it has to offer.

So if you are looking for holiday, temporary, or permanent Central Coast accommodation, a spot of Central Coast shopping, some brilliant Central Coast entertainment, a dip in one of the many pristine Central Coast Beaches followed by some fish and chips or maybe 5 star cuisine from one of the many Central Coast restaurants or take-away's you have definitely arrived at the right place..
Check the links above and also to the left and find all you'll need to enjoy a night out on the town or a whole holiday!
Welcome to my home town
---
~ THE GALLERY ~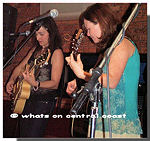 BEC WILLIS
AND
JENNY MARIE LANG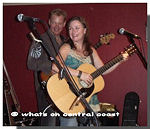 BEC WILLIS AND
SEAN RUDD