central coast musicians reviews musos classifieds tuition showcases recording studios stores radio stations pa and lighting Simpson's solicitors

WHERE TO STAY hotels motels bed & breakfast caravan parks backpackers

SHOPPING markets & garage sales bateau bay square erina fair gosford tuggerah

TRANSPORT buses trains cars commuters

BITS n PIECES caterers whats on blog councils community testimonials advertise?

ARTIST REVIEW AND BIO - BRETT O'MALLEY

THE REVIEW - BRETT O'MALLEY

BRETT O'MALLEY - Live and Original Home Bred Series - Dekk Bar Terrigal - 29.06.07: The difficult part of this job is to sift the hay from the chaff and let you know who out there is worth your time and money to go and see.

Now that sounds extremely callous but that is what reviewing is. I don't enjoy it sometimes but that is the chosen path I have to deal with.

After having so long an enforced break from the reviews I have been thrilled to note the talent I have seen over the past few weeks still doing the Central Coast so proud.

There are of course performers whose dreams block the reality of the moment and they just need that little bit more time and practice to become a genuine entertainer.

Brett O'Malley is NOT one of those. Without tarnishing Brett's work he has a very viable and commercial sound. (I say tarnish because there is music on the radio that comes no where near some of the talent we have around here but it IS on the commercial stations). He is professional in his appearance and attitude while still keeping the humility that appeals to so many. His has a varied vocal range and all songs did not sound the same - a blessing for sure.

Brett's work is close to home in lyric content and the telling is like a story - you keep listening to see what happens next. That is not easy to do in a poetic, lyrical restricted time frame.

The favourite of the night was the song dedicated to Brett's wife, "You". Other gems were "Links In a Chain", "Deception" and "Nothing I Could Do". Leaving before I had the chance to chat to Brett I am guessing at the titles of these songs from the lyric content alone.

You can hear some of Brett's work on the BRETT O'MALLEY MYSPACE PAGE and decide for yourself. Keep your eyes on the Gig guides and catch Brett at a local gig sometime, you wont be disappointed.

---

THE BIO - BRETT O'MALLEY

BRETT O'MALLEY:

Brett O'Malley is a seasoned soloist with over 8 years and hundreds of gigs experience.

Living virtually on the border of Newcastle and the Central Coast has allowed Brett to become well known as one of the most popular and sought after artists in venues spanning far and wide in both regions. His soulful and passionate style of delivering the songs that have been the soundtrack to many of our lives has endeared him to punters everywhere he goes, seeing him returning time and time again to the many venues he has played over the years.

Brett's own original material has seen him play the 2012 Sydney Blues and Roots Festival, the 2012 Sydney Royal Easter Show, as well as every notable original venue. He has been a Finalist in the Newcastle ABC Music Awards, and had his music played on radio and television shows such as Rage and Landed Music, and one of his compositions from his debut EP, a song called Amazing Life, has been viewed over 13,000 times around the world on Youtube.

As with his original material, Brett's repertoire of classic and modern covers and the way he delivers them is what has helped him to be a favourite with both venues and crowds who appreciate good music played the way it deserves to be.
From Creedence to Cold Chisel, Neil Young to Neil Diamond, Powderfinger, Crowded House, Tom Petty, Van Morrison, Oasis, Fuel, The Beatles, The Stones, Rod Stewart, Cat Stevens, The Eagles, Train, The Police, Leonard Cohen, Mellencamp, The Band, Bernard Fanning, Johnny Cash, Green Day etc etc a night at your local listening to Brett O'Malley is something you'll come back again for.


Whats On Central Coast
is run by a true local, born in Gosford and is very proudly Central Coast & Australian owned and operated.

An extensive knowledge and a love of the area plus a genuine interest to promote all it has to offer is what sets Whats On Central Coast apart from the others.

So if you are looking for holiday, temporary or permanent Central Coast accommodation, a spot of Central Coast shopping, some brilliant Central Coast entertainment, a surf report before a dip in one of the many pristine Central Coast Beaches or a round of Golf followed by some fish and chips or maybe 5 star cuisine from one of the many Central Coast restaurants or take-away's you have definitely arrived at the right place..
We also have the resources to help with your wedding plans too!
Check the links above and also to the left and find all you'll need to enjoy a night out on the town or a whole holiday!

Welcome to my home town
---
~ THE GALLERY ~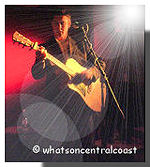 BRETT O'MALLEY