central coast musicians reviews musos classifieds tuition showcases recording studios stores radio stations pa and lighting Simpson's solicitors

WHERE TO STAY hotels motels bed & breakfast caravan parks backpackers

SHOPPING markets & garage sales bateau bay square erina fair gosford tuggerah

TRANSPORT buses trains cars commuters

BITS n PIECES caterers whats on blog councils community public internet cafes testimonials advertise?

DETAILS - CRAIG MORRISON

CRAIG MORRISON - BIO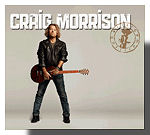 CRAIG MORRISON:
Both 'Fences' and 'Hot Kinda Love', singles from the new album, smashed up the country radio and video charts, making it into the Top 30 on CMC and garnering airplay around Australia and is a true demonstration of Craig's songwriting ability as Hot Kinda Love takes #1 for Country in the prestigious 2011 National Australian Songwriters Awards. And what a true taste of what this new album has to offer with Fences, sitting at #5 this week on the Australian Country Music Charts!

Harking from music royalty, Craig has been treading the boards of the Australian music industry since he was a youngster. His father, Lucky Starr, who is dubbed as a founding member of Australian pop and recognised as the first artist to record 'I've Been Everywhere' and make it a #1 hit on the Aussie charts. Lucky often took his son on stage, bringing him up on a solid diet of performing.

It was a natural progression for Craig to move into music as he became an adult, but initially he pushed himself in another genre direction entirely, forming pop-rock band DeMont in the 1980s and releasing hits such as 'Strange World' and 'I Want Your Body'. This took Craig and his band mates from pub stages to stadiums, seeing them tour alongside the likes of Mötley Crüe, John Farnham and many others, securing a record deal with the legendary Alberts.

Yet country music was always in Craig's blood. He felt a resonance with the genre and found himself often dabbling in writing country songs. "The first song I ever learnt was a country song. I love music that describes your life, makes you think, makes you smile…" His country album release 'Heaven Knows' under the guise of Craig Morrison Little Cowboys was well-received by the industry and this only further cemented his determination to carve a niche for himself in the genre.
The next natural step was to pack up his life and move to the country music capital of the world where he recorded his self-titled album with Grammy award nominated producer Mark Moffatt, due for worldwide release in January 2012. It not only features tracks written by Craig both while in Nashville and Australia, but also features some of the best songwriters from the international country music scene. "Every track is a hit," Craig says. "It is an incredible album from start to finish. I couldn't be more proud, it's like waiting for Christmas."

To keep the momentum going, Craig has secured distribution for his album in the US with GMV Nashville, and will be releasing 'Fences' as his first single to radio and video with Aristo Media. He will also be performing with his band in June at this year's Global Showcase CMAFest 2012.
CD INFORMATION :
RECORDED; Mink Sound
MASTERED: Viking Lounge
PRODUCED: Craig Porteils and Craig Morrison
Except for Track 11 by Herm Kovac
CMLC BAND INFORMATION:
Terry Mandryk, Greg Peters, Andrew Gatus, Mark Oats, Emma Barlow
ADDITIONAL MUSICIANS:
Jimmy James Rika, Doug Boyd Rodney Moar, Graham Griffith, Mark Oats, Rusty Cochrane,
BACKING VOCALS:
Erina Clark, Mark Williams, Nichole La Porte

Independent Release

TRACKS:
1) Ball and Chain
2) Heaven Knows
3) Message 170
4) Beyond Control
5) Miss You
6) Whiskey
7)Lovin Eye's
8) In My Dreams
9) MIA
(Made In America)
10) Losin' It
11) Turn Back

---

CRAIG MORRISON LITTLE COWBOYS - HEAVEN KNOWS REVIEW:

You just have to expect the best when the sleeve you receive your CD in is glossy, tri-fold and chockers full of information. Score 10 points straight up.
Extremely well and professionally presented. But one doesn't judge a CD by it's cover alone. Some musos simply cannot afford such comforts but the talent is still there.

In the case of the debut Craig Morrison Little Cowboys CD 'Heaven Knows' the talent far exceeded the packaging. What a brilliant CD.

The perfectly placed first track 'BALL AND CHAIN' curiously piques the attention in the first few seconds then wrenches a smile and body tapping from there on in.
Try it; its like guaranteeing closed eyes with a sneeze - there's just no keeping still with this music. Thoughts medley around 'wow - this is country, then, no this is rock and great rock!

Arriving at the title track HEAVEN KNOWS one starts to wonder who the hell these guys are and why haven't we heard more, so much more of them. This CD is nothing but pure unadulterated talent lyrically, musically and not forgetting to mention the stand out production.

BEYOND CONTROL, co written with Nichole is beautifully written, composed and performed, it takes you on an eye closed ride simply savouring the music and the words.

This album is a full on bull ride of great work - there are no tracks to skip, they are ALL good. Contemporary Country Rock would probably best describe the genre but if you are not a country fan don't let that fool you.
These guys could headline just about anywhere (screaming death metal and gangster rap aside of course) and still entertain the masses such is the appeal of the music and the beautifully crafted words, music, instrumentation and entertainment value.

What I also love about this CD is the actions and comments from visitors and passengers (I had it on very high rotation in the car - brilliant to drive with) when it's playing.
Many are used to me having the odd unknown music happening but I get a buzz when I see them inadvertently tapping feet or fingers and then the light bulb moment and inevitable question - "Wow this is great - who is it"?

I just love my work!
---

CRAIG MORRISON - CD REVIEW

CRAIG MORRISON SELF TITLED CD REVIEW FROM MATT LAWRENCE:

From The Oz Country Chronicle Website...

If there is any justice in this world, the majority of the tracks on this self-titled release should be making their way onto the airwaves at some point in the course of the coming year.
Over the top statement? NO.

This reviewer honestly feels the quality of the material on offer here is most certainly on par with the overwhelming majority of label and international offerings currently doing the rounds.
In fact, in many instances the quality here far exceeds that of its contemporaries.

Just take tracks Just Another Sundown and I Love You More - each perfect examples of well constructed contemporary country, thick with melody and substance.

On this album Morrison serves up a cross section of hearty ballads and well measured country rockers. The over all vibe is infectious.

Craig sourced the majority of tracks from Nashville's finest writers and employed the services of Mark Moffatt [O'Shea, Jasmine Rae, Deana Carter, Gloriana] to produce.
The resulting sound is extremely fresh and sees Morrison stretch his already impressive vocal range to limits he'd previously not ventured. He proves most capable of adding the cream to the sensational musical backing provided by the international cast of players.

There really is something about this self-titled effort that raises the bar Morrison set for himself on his grossly underappreciated debut, Heaven Knows.

This time around, anything short of a dramatic increase in Morrison's profile within the industry would be a complete farce - it is more than deserved.

Highlights of the release include Fences, Wasted On Me, Stay Up Late, Hot Kinda Love and Somebody's Girl.
It's all country and extremely worthy of attention from the masses.

If you haven't already turned on to Morrison's music, now's the time.

---

---


Whats On Central Coast
is run by a true local, born in Gosford and is very proudly Central Coast & Australian owned and operated.

An extensive knowledge and a love of the area plus a genuine interest to promote all it has to offer is what sets Whats On Central Coast apart from the others.

So if you are looking for holiday, temporary or permanent Central Coast accommodation, a spot of Central Coast shopping, some brilliant Central Coast entertainment, a surf report before a dip in one of the many pristine Central Coast Beaches or a round of Golf followed by some fish and chips or maybe 5 star cuisine from one of the many Central Coast restaurants or take-away's you have definitely arrived at the right place..
We also have the resources to help with your wedding plans too!
Check the links above and also to the left and find all you'll need to enjoy a night out on the town or a whole holiday!

Welcome to my home town.
---
~ THE GALLERY ~