central coast musicians reviews musos classifieds tuition showcases recording studios stores radio stations pa and lighting Simpson's solicitors

WHERE TO STAY hotels motels bed & breakfast caravan parks backpackers

SHOPPING markets & garage sales bateau bay square erina fair gosford tuggerah

TRANSPORT buses trains cars commuters

BITS n PIECES caterers whats on blog councils community testimonials advertise?

DARREN JACK - DETAILS

ARTIST::
The Darren Jack Band

MEMBERS:
DARREN JACK: Guitar Vocals
GEORGE BRUGMANS: Drums
SAM BOYD: Keyboard
PAT SAVINA: Bass

GENRE:
Blues Rock

THE REVIEW

Terrigal Country Club, 16.10.05

:
Also on the bill with the Darren Jack Band this evening was the talented Ray Beadle.

Plugged in and rocking the rest of the night away, Darren was joined on stage by some very talented musos in the form of, George Brugmans on drums, Sam Boyd on the Roland VK7 (no hammond harmonica in sight I'm afraid) and Pat Savina on bass guitar.

Another performer that exudes emotion and a feel for every note he plays is Darren Jack. The guitar is more like an extension, not just of his hands but of his very soul and feel for the content of the song he is playing.

Again it would be hard to pick the favourites but 'To Know You' and 'Breakaway' would have to be in the top few choices.

The fact that the gig was not widely publicised was great for those fans who braved the much needed rain and were rewarded in a most enjoyable way for their efforts.


THE BIO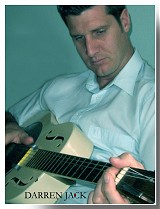 DARREN JACK:

Previously the driving force behind the award winning Australian blues band Third Degree, which rocked blues enthusiasts across the country for six years, Darren (Jacko) Jack now performs regularly both solo acoustic and as The Darren Jack Band, delivering a unique, smooth R&B/Soul style of blues to packed venues across Australia. With a more mature approach and strong vocals, The Darren Jack Band offers up a gutsy, yet classy sound as heard on the recently released 'Don't Mess Up A Good Thing CD.

One of Australias leading Blues musicians, Jack has opened and shared the stage with artists such as Robert Cray (USA), Jimmie Vaughn (USA), Canned Heat (USA), Ford Blues Band (USA), George Thorogood (USA), Chris Cain (USA), Andy Just (USA), Long John Baldry (UK), Kevin Borich, Ian Moss, Jeff Lang, Phil Emmanuel, Dave Hole and Chain. Jack has also appeared at most major Blues Festivals in and around Australia.
Article from "THE DRUM MEDIA" #598 14th May 2002 by Andrew Williams Drum Blues.++
Local blues guitar hotshot Darren Jack has just released his new CD. Titled Don't Mess Up a Good Thing the CD features ten tracks, six penned and co-penned by Jack and a few selected covers from the likes of the Linda Ronstadt - famed You're No Good, Stevie Wonder's To Know You is to Love You, Andy Just's Backtrackin' and Ten Years After's Feel it for Me.

Every once in a while this here blues column receives a CD that makes me stop whatever else it is that IÆm doing and really take note. When I popped Don't Mess Up a Good Thing into the blues CD player, this is exactly what I did. The young man may be known as a hotshot guitarist, however Jack's vocals stand along side of his guitar talents. Jack's vocals are well beyond his years and his guitar work, although very Stevie Ray Vaughan, is very tasteful indeed.

The CD sees Jack pull out of his Third Degree backing band and bring in the likes of Ian Lees (bass), Calvin Welch (drums), Lachlan Doley (Hammond ) and Wayne Jury (backing vocals on four of the tracks).

Jack may have dropped the Third Degree from his backing band's name, but there is plenty of fire in this young blues man.

This here blues column advises that this CD is a must buy.

Bio content supplied by D Jack


Whats On Central Coast
is run by a true local, born in Gosford and is very proudly Central Coast & Australian owned and operated.

An extensive knowledge and a love of the area plus a genuine interest to promote all it has to offer is what sets Whats On Central Coast apart from the others.

So if you are looking for holiday, temporary or permanent Central Coast accommodation, a spot of Central Coast shopping, some brilliant Central Coast entertainment, a surf report before a dip in one of the many pristine Central Coast Beaches or a round of Golf followed by some fish and chips or maybe 5 star cuisine from one of the many Central Coast restaurants or take-away's you have definitely arrived at the right place..
We also have the resources to help with your wedding plans too!
Check the links above and also to the left and find all you'll need to enjoy a night out on the town or a whole holiday!

Welcome to my home town
---