central coast musicians reviews musos classifieds tuition showcases recording studios stores radio stations pa and lighting Simpson's solicitors

WHERE TO STAY hotels motels bed & breakfast caravan parks backpackers

SHOPPING markets & garage sales bateau bay square erina fair gosford tuggerah

TRANSPORT buses trains cars commuters

BITS n PIECES caterers whats on blog councils community testimonials advertise?

REVIEW - ARTIST/CD - FELICITY URQUHART

ARTIST:

Felicity Urquhart

CD:

The Flood

(from This Life)

GENRE:

Country

WEBSITE: Yes

THE REVIEW - THE CD

FELICITY URQUHART: The Flood: 3 tracks from MY LIFE:

There is so little wonder that this lovely young lady was a finalist in the category of Female Vocalist Of The Year in the 34th annual Country Music Awards held recently in Tamworth (January 2006).

This CD was an absolute pleasure to listen to and review.

Although Felicity has had some musical heavy-weight assistance from the likes of Glen Hannah, Jeff and Rod McCormack and Mick Albeck (to mention only a few) Felicity's talents as a singer/songwriter are not masked by the production. The CD is almost a mirror image of Felicity's live performance.

The tracks are...
The Flood (F Urquhart/G Hannah); A Little Joy (F Urquhart) and Mr Catfish (F Urquhart/K Bennett/G Hannah).
All three tracks are a selection that presents a sample of the variety of Felicity's singer/songwriter talents.
The Flood, with its poignant lyrics dedicated to some loving kin, is the ballad, A little Joy is a sweet MOR love song and Mr Catfish very much the more upbeat tune.

The album was produced by Glen Hannah with additional production by Jeff McCormack.
This may be in the Country music genre and if you feel you aren't a fan, grab a copy of this EP and I would wager you will be looking to buy the album.
---

© whatsoncentralcoast.com.au

---

---


Whats On Central Coast
is run by a true local, born in Gosford and is very proudly Central Coast & Australian owned and operated.

An extensive knowledge and a love of the area plus a genuine interest to promote all it has to offer is what sets Whats On Central Coast apart from the others.

So if you are looking for holiday, temporary or permanent Central Coast accommodation, a spot of Central Coast shopping, some brilliant Central Coast entertainment, a surf report before a dip in one of the many pristine Central Coast Beaches or a round of Golf followed by some fish and chips or maybe 5 star cuisine from one of the many Central Coast restaurants or take-away's you have definitely arrived at the right place..

We also have the resources to help with your wedding plans too!

Check the links above and also to the left and find all you'll need to enjoy a night out on the town or a whole holiday!
Welcome to my home town!
---
~ THE GALLERY ~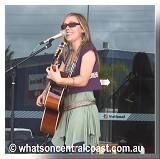 FELICITY