central coast musicians reviews musos classifieds tuition showcases recording studios stores radio stations pa and lighting Simpson's solicitors

WHERE TO STAY hotels motels bed & breakfast caravan parks backpackers

SHOPPING markets & garage sales bateau bay square erina fair gosford tuggerah

TRANSPORT buses trains cars commuters

BITS n PIECES caterers whats on blog councils community public internet cafes testimonials advertise?

ARTIST BIO - FUN2MENTAL

FUN2MENTAL - THE BIO

FUN2MENTAL - Covers Band

Anita Tresidder – Lead Vocal;
Anita Established Fun2Mental back in 1999 and has had 9 years of successful performances ranging from the Blue Mountains, North Coast, Sydney, Newcastle and Central Coast areas.

Bathurst Conservatorium of Music was the base for Anita's Vocal Training. She has a very strong Vocal ability and her range enables her to perform songs from such artists as Creedence, Shakira, Cold Chisel, Shania Twain, The Angels, Keith Urban and her all time favourite "Better by The Screaming Jets" What a way to finish a night!

Although more commonly known to knock out a few Rock & Pop tunes, she has more recently turned her hand toward conquering the World of Country and Ballads.

A walk through the crowd with her radio mic along with encouraging the audience to participate in the performance has provided an element to the show that has had patrons and publicans alike requesting return performances. More recently taking on the alter ego of "NaughtyNeet" when the venue allows. A slight tinge of Naughtiness has added an element to the show that has been welcomed at many hotels in more recent times and seems to work a treat. ADAM LANG - Guitars

Born in Sydney in 1969, and taking up music at the age of 7, playing his first public performance at the age of 14, Adam has been playing shows on various musical instruments ever since. His main instruments are guitar and bass, but also plays fretless bass, bluegrass banjo, mandolin, lap steel, accordian and drums. Adam has worked with many people over the years including Rod McCormack, Steve Kilbey, Mark Moldre as well playing in support spots for The Church and Mental As Anything. Adam has played in various bands such as Hitchcock's Regret, Funky Grass, The Button Mushrooms, Up Front, Now For The Weather, Red Alert, Transit Lounge, Shaky Ground and Spruce Goose, with also from time to time playing in theatre productions.

Teamed together, Anita & Adam become perfect for Bar Entertainment, Weddings and Functions. Ideally suited to Parties. All age groups are catered to. We promise to entertain your guests, while you sit back and relax and enjoy the night.
"If we can get the crowd enthused, then that's really when we come to life and perform at our best" Mingling with the crowd and including them in some well known chorus' really puts a smile on the patrons faces, bringing the night to life. We take pride in the fact that our performances are entertaining and fun to be a part of.

Equipment;
Fun2Mental hit the stage with State of the art technology. The use of Bose PAS (Personal Amplification System), Berringer Desk, Notebook Computer and one touch sound control, combined with a compact lighting system provides them with a powerful base, which has proven enough to fill a large room, yet compact enough for a small stage area. Making them suitable for Large Clubs, Hotels and Venues or small restaurants & more intimate rooms.


Whats On Central Coast
is run by a true local, born in Gosford and is very proudly Central Coast & Australian owned and operated.

An extensive knowledge and a love of the area plus a genuine interest to promote all it has to offer is what sets Whats On Central Coast apart from the others.

So if you are looking for holiday, temporary or permanent Central Coast accommodation, a spot of Central Coast shopping, some brilliant Central Coast entertainment, a surf report before a dip in one of the many pristine Central Coast Beaches or a round of Golf followed by some fish and chips or maybe 5 star cuisine from one of the many Central Coast restaurants or take-away's you have definitely arrived at the right place..
We also have the resources to help with your wedding plans too!
Check the links above and also to the left and find all you'll need to enjoy a night out on the town or a whole holiday!

Welcome to my home town.
---
~ THE GALLERY ~
CROWD PARTICIPATION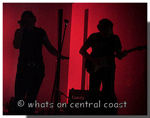 FUN2MENTAL