central coast musicians reviews musos classifieds tuition showcases recording studios stores radio stations pa and lighting Simpson's solicitors

WHERE TO STAY hotels motels bed & breakfast caravan parks backpackers

SHOPPING markets & garage sales bateau bay square erina fair gosford tuggerah

TRANSPORT buses trains cars commuters

BITS n PIECES caterers whats on blog councils community testimonials advertise?

BIO & REVIEW - ARTIST .. HITCHCOCKS REGRET

ARTIST:
HITCHCOCKS REGRET MEMBERS MARK MOLDRE: Guitar, vocals
SHANE PEX: drums, guitar
DISCOGRAPHY: Happiness
Endless Intermission

CONTACT:
Website

THE REVIEW

HITCHCOCKS REGRET: From What's On Central Coast issue 08.08.05

BUSY BUSY BUSY:

Little things kept me from many of the vast array of entertainment that hit the coast this last week-end but fortunately not all.

The pencil marks have been in the diary for weeks for Sundays local launch of the New Hitchcock's Regret EP and it was a must go situation. 'Endless Intermission', the new Hitchcock's Regret CD in depth review will be here shortly but if you weren't there last night you did miss a great night.

My debut visit to the Dekk Barr was a pleasant surprise. The perfect venue for the launch of this most unusual CD. With only two members of the band playing this intimate venue the launch had a certain 'up close and persona' feel to it. A touch of class with the guys in suits and some champagne and appetisers for those who came along added to the ambiance of the evening.

The marketing aspect of the night was excellent. Cd's prominently displayed, information/feedback lists readily available and the availability of the entertainers to chat. A few musical influences were apparent in Mark's songwriting and vocal performances. A little Justin Hayward and a smidge of Lennon and I felt I was pleasantly returned to last century's music styles with this century's lyrics.

The CD adds so much more to the songs that were performed last night. Whether you love or hate the movies as much as these guys you still feel something with this most unusual CD. Perhaps it's the different theme and style that grabs your attention. Curiosity had me listen to it a few times to try and pick but I found myself pleasantly carried away with the whole album. I can see this wont be an album that appeals to everyone but the ones it grabs will love it.

Congratulations to the band for a successful evening, FBi having the new single on high rotation and Triple J also adding 'Happiness' to their play list.
Thanks also to the Sparky company I had for adding to this wonderfully unusual CD launch.

BIO


HITCHCOCKS REGRET: THE MEDIA RELEASE SAYS IT ALL:
Hitchcock's Regret's third album endless intermission began with Shane Pex uttering "If Her Life In Reverse (previous HR album) was "To Catch A Thief" (light and summery Hitchcock film) then this album will be "Vertigo" (an extremely personal, dark and wintry Hitchcock film)"

In the same way that Alfred Hitchcock shaped Vertigo into a highly personal story of memory, loss and obsession, Hitchcock's Regret molded their latest album using Hitch's emotional palette as inspiration.
Endless Intermission has been through two producers, seen two band members depart to other shores,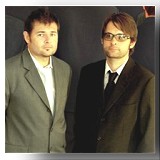 a rejection of earlier influences, the construction of a studio, the previous record company balking at what was considered an uncommercial/arty album and finally the meeting of minds with Spacejunk.
In its embryonic state this album came about through Hitchcock's Regret working with Michael Carpenter stretching the boundaries of their usual processes and developing a fresh palette of sounds. They found sounds and textures they had not used before and worked tirelessly at redefining the bands sound.

The exploration of this unknown quantity drew them to international producer and artist Tim Powles (iota, George Byrne, Switchkicker, the church). The bands approach to recording and writing was deconstructed, starting with the rhythm section. Sweeping, avant-garde, atmospheric textures became the musical backdrop to Mark Moldre's highly personal lyrics, whilst retaining a strong sense of "song" .
And then there were two……

Keyboardist Paul Grant left to follow a career in Singapore closely followed by bassist Dave Pex who moved on 'cause it was time'.

Mark and Shane working with Tim pushed the project on and gradually realised that for once anything was possible. Mark and Shane's love of cinema started to come out in the music – soundtrack styled textures ebbed and flowed beneath the lyrics – Mark's style being coined as "painting feelings". Songs like Goodnight Chet , blending the lives of Elliot Smith and Chet Baker, Happiness – a deeply personal lyrical diary, Apathy with its scathing view of people who go through life with blinkers on and finally Last Day , a soaring epic that Mark wrote after a particularly emotional day.
- Jane Powles; Spacejunk Production House

---
~ THE GALLERY ~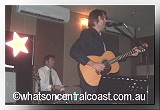 MARK AND SHANE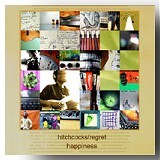 HAPPINESS CD