central coast musicians reviews musos classifieds tuition showcases recording studios stores radio stations pa and lighting Simpson's solicitors

WHERE TO STAY hotels motels bed & breakfast caravan parks backpackers

SHOPPING markets & garage sales bateau bay square erina fair gosford tuggerah

TRANSPORT buses trains cars commuters

BITS n PIECES caterers whats on blog councils community testimonials advertise?

ARTIST - JENNY MARIE LANG BAND

MEMBERS:
JENNY MARIE LANG: vocals, guitar;
JACK EVANS: guitar; vocals;
VITO PORTOLESI: bass;
ANTERO CESCHIN: drums;
BRENDAN St LEDGER; organ; with
FABIAN HEVIA: percussion;
WAYNE JURY: background vocals,
"BIG O PERKINS" backing vocals

GENRE:
Blues, Soul, - Originals (CD)

WEBSITE:
Jenny Marie Lang

JML BAND - NOT THIS TIME:

I am surprised just how much talent can be squeezed into such a small space. The CD should be so much bigger. This is the veritable Tardis.

The band - VITO PORTOLESI (Icehouse, The Mighty Reapers) plays bass; ANTERO CESCHIN (Leonardo's Bride, The Mighty Reapers)and the current title holder of the Sydney Chromatic Harmonica Championships, plays drums and adds backing vocals; JACK EVANS (3 Piece Suite, Steve Prestwich [Cold Chisel] Band) plays guitar and also adds backing vocals; BRENDAN St LEDGER (Swoop, Marcia Hines, Rick Price, Wendy Mathews), plays the keyboards. Out the front is the totally awesome talent of JENNY MARIE LANG, lead vocals, electric and acoustic slide guitar and mandolin.
Jenny has been a special guest singer and guitarist who has supported the likes of The Whitlams, The Mighty Reapers, Paul Mac, and the amazing Jeff Lang.

The passion, the soul, the music - a truly moving experience in every track. I would feel totally inadequate spouting only my thoughts on this exceptional album, when we can add a few more positive comments about JML.

Drum Media called Jenny Marie Lang "one of the hottest female blues voices" while esteemed radio jock and one-time Beast Doug Mulray said of Jenny that "if there's any justice in this world, you'll be hearing a lot more from this young lady" and she's an "absolutely top notch Australian talent".

They're not wrong!
---
An exceptionally wonderful discovery. A small, cosy intimate gig this reporter came across on the long weekend.

Lured by an enchanting voice … a tale akin to the Greek mythological Sirens, but with a much happier ending. Jenny Marie Lang and Jack Evans, in the Sea Breeze Lounge at the Tuggerah Lakes Memorial Club.

Did those unsuspecting punters know who they were being serenaded by?

The incomparable muse of the JML Band smoothly accompanied by the legendary Jack Evans, up close, personal and free.

Although each and every song was covered by their own wonderful interpretations, I found the most exceptional song for the night was Jenny's version of the U2 classic, "Still Haven't Found What I'm Looking For".

Jenny's angelic voice and soulful rendition and Jacks stirring guitar gave Bono's poignant lyrics such feeling as to be mesmerizing.

Jenny and Jack did one original song from their CD "Not This Time" and it was appreciated by all who were listening.

Keep a look out on our gig guides for more little hidden gems … but don't hold a breath … surely we couldn't be that lucky twice. Or could we?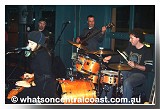 THE JENNY MARIE LANG BAND:
The Lakes Hotel: April 28 2006:
Excerpt from JML review above;
Keep a look out on our gig guides for more little hidden gems … but don't hold a breath … surely we couldn't be that lucky twice.
Or could we?
Lucky - No - Blessed would have to be the more appropriate word.
What a difference a band makes... Jenny and Jack as a duo are brilliant but having the whole band there was such a treat. A varied set list with fuller sounds and some new additions made it feel like the first time. Sharing the stage with Jenny Marie Lang (vocals, guitar) and Jack Evans (guitar, vocals) were Jeff Rosenberg (bass guitar) and Glenn Wilson (drums).

All Along the Watch Tower, My mamma Said, Standing On Shaky Ground, Come Together, Steal My Kisses and the U2 classic - Still Haven't Found, were such a joy to hear with the full band backing. The band also did some tracks from their CD 'NOT THIS TIME' - The soulful Will You? and Not This Time gave first time punters an added insight into why the JML Band are one of the most popular bands around the city venues.

Jenny has recently purchased a rather unique lap slide guitar from Mr Bill Chambers and its wonderful tone combined with this young ladies extraordinary talent breathed some extra life into No One Else Can Do.

No one else can do like the Jenny Marie Lang Band can. We were lucky to have them visit the Coast again for this gig, but now it's a case of - please sir... I want some more.
---

© whatsoncentralcoast.com.au

---

---


Whats On Central Coast
is run by a true local, born in Gosford and is very proudly Central Coast & Australian owned and operated.

An extensive knowledge and a love of the area plus a genuine interest to promote all it has to offer is what sets Whats On Central Coast apart from the others.

So if you are looking for holiday, temporary or permanent Central Coast accommodation, a spot of Central Coast shopping, some brilliant Central Coast entertainment, a surf report before a dip in one of the many pristine Central Coast Beaches or a round of Golf followed by some fish and chips or maybe 5 star cuisine from one of the many Central Coast restaurants or take-away's you have definitely arrived at the right place..
We also have the resources to help with your wedding plans too!
Check the links above and also to the left and find all you'll need to enjoy a night out on the town or a whole holiday!

Welcome to my home town
---
~ THE GALLERY ~
Jenny Marie Lang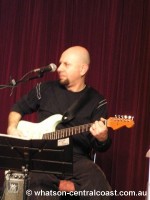 Jack Evans
JENNY MARIE LANG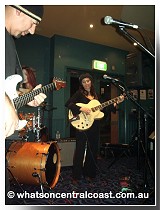 JACK AND JENNY