central coast musicians reviews musos classifieds tuition showcases recording studios stores radio stations pa and lighting Simpson's solicitors

WHERE TO STAY hotels motels bed & breakfast caravan parks backpackers

SHOPPING markets & garage sales bateau bay square erina fair gosford tuggerah

TRANSPORT buses trains cars commuters

BITS n PIECES caterers whats on blog councils community testimonials advertise?

ARTIST - JIVE BOMBERS


MEMBERS:
PETE MORAND:: Vocals, trumpet
CHRIS STAFFORD: Vocals, bass
DAVE GLYDE: Sax, flute, clarinet
MAREE STEINWAY: Piano, vocals
BEN DALEY: Guitar
TONY GEORGESON: Drums
ROZ HATFIELD: Vocals

DISCOGRAPHY:
Swing That Cat
15 Hours WEBSITE: Jive Bombers

JIVE BOMBERS:

The Jive Bombers were formed in November 1985 to fill the Saturday night residency at Red Neds wine bar in Chatswood, Sydney.

Little did they know that 20 years later they would still be together, with almost the original line-up.

In that time some of Australia's finest musicians have worked in the band. There have been sit-ins with touring international acts such as members of Paul Simon's Graceland band and Lou Marini from the Blues Brothers show. The Jive Bombers have also backed many Australian acts including Doug Parkinson, Glenn Shorrock, Ignatius Jones and Little Patti.

The band has independently released three CDs, winning awards for both jazz composition and rock 'n' roll, and performed at numerous music festivals in NSW, Victoria and Queensland .

Over the years the Jive Bombers have built an enviable reputation in both jazz and dance circles and developed a loyal following.

Plans are to release another CD this year with yet more original compositions and even take on some gigs overseas.

But wait there's more..

JIVE BOMBERS SCORE AT APRA AWARDS
Sydney's swingingest band the JIVE BOMBERS are proud to announce their song "Jungle Jive" was named Most Performed Jazz Work at the 75th APRA (Australasian Performing Rights Association) Awards on May 28. This award is based on how much airplay an Australian composition gets on community, local and national radio, which would make Jungle Jive the most popular Australian "trad" jazz composition in the last 20 years. Written by bass player Chris Stafford and trumpeter Pete Morand, Jungle Jive, with its throbbing tom-toms seems to have struck a chord (or two) with Australia's most diverse radio audience: ABC listeners. In fact the song appears on the ABC's annual Airplay CD -- compiled from listener requests -- alongside the works of such great artists as blues man Taj Mahal and country siren Kasey Chambers.

As Angela Catterns said after playing Jungle Jive the other morning, "Love a drum solo for breakfast -- don't you?" You gotta love the ABC.

ROCKERS ON A ROLL!
Jive Bombers score again two weeks after their song Jungle Jive was named Most Performed Jazz Work at the 2001 APRA Music Awards, AUSTRALIA'S SWINGINGEST BAND the Jive Bombers have won two more awards - this time for rock n roll!

At this year's Wintersun Rock n Roll Festival in Coolangatta on Queensland's Gold Coast, the Jive Bombers were named Best Performing Band. In addition, their original composition J.B. Boogie was voted the Best CD Track on Sun 6, the official Wintersun compilation album for 2000.

Both Jungle Jive and J.B. Boogie first appeared on the Jive Bombers Swing That Cat CD, together with three other originals and seven cover versions ranging in style from 40s swing to rockabilly, from 50s blues to contemporary jazz-funk and latin.

Thanks to the band's solid live following and extensive airplay on ABC radio, both regional and national, Swing That Cat has already sold out four pressings — an impressive feat for an independently produced album.
The Jive Bombers are currently preparing material for a third album and cementing their reputation as Australia's hottest dance band. Jazz or rock 'n' roll, whatever it is the Jive Bombers play, these rockers are on a roll!


Information and some images courtesy of Jive Bombers.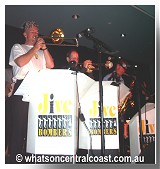 JIVE BOMBERS, SHUFFLE KINGS AND VINNIE THE SWING KING; Davistown RSL - February 25 2006:
When Pete Morand emailed me to let me know this show was coming I knew I had to be there. I will be ever grateful for the invite and that I was able to attend.
What an awesome night it was! Inspirational!

The sheer presence of Roz Hatfield on the stage was an instant shining light. Roz just belongs there, she is an entertainer with a powerful voice and the charisma of one born for the stage (think Peter Allen).

The Jive Bombers have mastered the art of tight timing and tick together better than Big Ben. The dance floor was packed with swing dancers who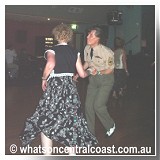 were obviously great fans of this incredible band.
The stage was filled with talented musicians who were hell bent on entertaining the 'expecting to dance our socks off' crowd and didn't let them down.

Starting out with Jive Bomber Boogie, their signature tune and progressing through some big band, rock 'n' roll and Latin dance tunes, the Jive Bombers take you on a few steps back in time to the dance hall days.

The majority of the Jive Bombers have been together for twenty years and have supported and jammed with some of the worlds greatest including members from the Paul Simon Graceland tour, Lou Marini from the Blues Brothers, Doug Parkinson, Glen Shorrock and Ignatius Jones.

The Jive Bombers are an extremely professional and quality outfit and by the size of the crowd in attendance tonight they have nurtured a huge fan base.

The Jive Bombers are a peoples band and their focus is all on entertaining the people that turn up to their shows.
If you see them on the gig guides get to the gig. You wont ever regret it!

~ THE GALLERY ~
15 Hours
Jive Bombers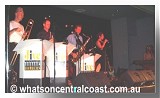 THE JIVE BOMBERS AT DAVISTOWN RSL