central coast musicians reviews musos classifieds tuition showcases recording studios stores radio stations pa and lighting Simpson's solicitors

WHERE TO STAY hotels motels bed & breakfast caravan parks backpackers

SHOPPING markets & garage sales bateau bay square erina fair gosford tuggerah

TRANSPORT buses trains cars commuters

BITS n PIECES caterers whats on blog councils community testimonials advertise?

REVIEW - ARTIST .. JULIA STARR

JULIA STARR: BIOGRAPHY:

Country Music is Julia Starr's first love. A successful and highly awarded singer-songwriter for over ten years, Julia's done the hard yards – played nearly every venue in New South Wales from Clubs to Pubs, and the adventure has only just begun.

With two successful country albums and a new one planned for release this year, Julia Starr is no stranger to the changing country music scene and writes her songs to reflect real life situations and possibilities.

"I'm feeling very positive that country music will continue to thrive in Australia. It forms the cultural backbone and heartbeat we all live to," says Starr.

Over the years spent treading the country boards of her life, Julia has received many songwriting awards from Tamworth, National Competitions and gained a position in the Starmaker Quest. Her music video, filmed in Darwin, was listed in the nominations for a Golden Guitar Award and played on the original Sky Country Music TV Channel. This was was before the independents made their mark on Tamworth.

She has always been a great advocate for the development of new music and has paved the way for many new artists-allowing newcomers to share the stage and offers encouragement to any artists who approach.
"I've always believed that country music presents a story which should be shared. I am a natural story writer, so country songs are my favourite. There's the challenge to share an experience in a new and original way."

The released songs from her second album, Moments of Brilliance, gained national airplay. One single, Get Up In The Morning, climbed the country music charts in Australia, New Zealand and Europe. She was granted two Awards from the Queens Trust For Young Australians and produced two albums and a music video. With fan mail from France and Belgium, Julia hopes to take her music to the international stage.

A generous volunteer and professional performer, Julia Starr has worked alongside the greats in the Country Music Industry, supporting Beccy Cole, Gina Jeffries and Kasey Chambers. Thanks to the warm support on the Central Coast by the Central Coast Country Music Association, Julia has just been invited to perform at the Central Coast Country Music Festival, with a program including the first Songwriter's Breakfast at Kenzies Café, in the Mall, and will also perform at the Entrance Leagues Club on Friday 12 March at 8:30 PM.

Julia Starr is excited about presenting the Songwriter"s Breakfast along with special guests.
"A friend recently asked me, "What makes a country song, country?" and I said country music has to be felt. It's a special way of telling a story in a song and meaning it."
A popular performer with an amazing voice, Julia currently is based on The Central Coast, but longs for the open road. "I look forward to packing the Van for an extended trip, so I can write more songs!"

Finding inspirations from her travels, the future for Julia Starr is the next adventure. .

JULIA STARR: The Entrance Bowling Club, February 19 2005:

Stuck in the middle alone was where we found Julia Starr.

No clowns or jokers here I'm afraid.
Flanked on the left by her sound equipment and all other sides nothing but space must have been a tad unnerving.
It was an uncomfortable feel from where I sat. Either way Julia faced, she would have her back to part of the audience.

Perhaps the club could review that situation for other artists in the future.

A quit chat to Julia prior to her starting found she has released two CD's of original works and also done a few festivals.

The first song I noted was one I am presuming to be called, I Miss You. It had a sweet folksy flavour without being over the top. Julia's rendition, solo in an open room, begs the thoughts of how a studio version with backing would only enhance the words and music of this song.
It was lovely.
One of the songs covered by Julie was a different version of the Ross Wilson classic, 'Come Back Again'. I was a bit wary when she pre announced it but it was quite appealing.
Some of the artists songs that Julie covered were as diverse as Nina Simone, Ronan Keating, and James Taylor.

Julie fell into what I have called a cover trap.

In some cases artists with their own original material are forced to do cover versions of other peoples work, just to get work and their technique differs between the two.

Julia's strumming style on her original songs was more defined and varied from that of some of the cover versions. I am in no way suggesting that Julia was not a talented lady. It was just something that these pedantic ears picked up on.

I guess it is a catch 22, no magic box to hide these little subtleties but grateful for the lack of the electronic noise in the background.

Solo work, go figure. How do they do it?

Julia did have electronic assistance but it wasn't over the top and in your face. She shone, as it should have been.

The setting and the audience is one that I have not been in doing a review before. The more mature audience and the acoustics of the room were vastly different. Julia adapted well to this.

We need a venue that is willing to 'risk' having artists play their own material. How did the artists with the hits get there? Some one gave them a chance.

If we can organise one Julia would be one of the top of the list ones that I would dearly love to hear more from. The couple that I heard were enough to make me curious. Julia has a demure presence and a voice to match in this setting.

The audience enjoyed their evening and were quite happy up there on the dance floor, smiling, content and totally entertained. In their eyes, Julia was definitely a Starr!


Whats On Central Coast
is run by a true local, born in Gosford and is very proudly Central Coast & Australian owned and operated.
An extensive knowledge and a love of the area plus a genuine interest to promote all it has to offer is what sets Whats On Central Coast apart from the others.
So if you are looking for holiday, temporary, or permanent Central Coast accommodation, a spot of Central Coast shopping, some brilliant Central Coast entertainment, a dip in one of the many pristine Central Coast Beaches followed by some fish and chips or maybe 5 star cuisine from one of the many Central Coast restaurants or take-away's you have definitely arrived at the right place..
Check the links above and also to the left and find all you'll need to enjoy a night out on the town or a whole holiday!
Welcome to my home town
---
~ THE GALLERY ~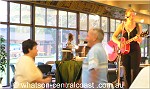 JULIA STARR