central coast musicians reviews musos classifieds tuition showcases recording studios stores radio stations pa and lighting Simpson's solicitors

WHERE TO STAY hotels motels bed & breakfast caravan parks backpackers

SHOPPING markets & garage sales bateau bay square erina fair gosford tuggerah

TRANSPORT buses trains cars commuters

BITS n PIECES caterers whats on blog councils community testimonials advertise?

ARTIST - KLASSIC BLAK



MEMBERS:
CHRIS ANTHONY: Vocals, guitar


GENRE:


Pop Blues Country- covers




WEBSITE:
Klassic Blak


E-MAIL:
here

THE REVIEW

KLASSIC BLAK:

The time has come, the people said: yes folks here they are, the Klassic Blak duo of Chris Anthony and Keri Lewis in colour on WOCC.

We found them playing at the revamped Bateau Bay Bowling Club.

The first thing we heard on entry to the club was Chris covering a Johnny Cash classic. I'm no big fan of Mr. Cash but the real thing that hit was Chris' voice. In a word awesome.

After getting through the joining and signing-in routine we finally took our ringside seats. The presentation Chris and Keri have is such a thoughtful one. Leads, stands and plugs are covered by fitting, tailored covers. This may seem a small detail but an important one for both presentation and safety. Klassic Blak was just that, classically classy and in theme. Visually inviting down to the balance of the ornamental flames flanking both players.

The use of midi files is not an obvious one. The keyboard which stands before Keri is not an ornament. Communication with the audience was very amicable and easily accepted. Off to a great start so far.

Although we were only there for a couple of sets we could tell it was shaping up to be an extremely entertaining night for those with the luxury or the ability to stay and enjoy. The creme de la creme prior to our leaving was Chris doing the classic hit Unchained Melody (I still have the goose bumps when I recall his excellent rendition and holding of 'those' notes') and Keri following that with Crazy.

The songs we heard were varied in style and genre. Keri did a terrific version of La Bamba. She covered the words exceptionally well and had the feel to accompany the rhythm of the song. Other classics such as Gloria and Eagle Rock were equally at home in the sets with (cringe) Achy Breaky Heart (Ok, yes I was tapping my foot), The Wanderer, Love is in the Air, and that great Aussie classic of JO'K, Sing.

As per Chris' promise to those having a great time on the dance floor (insert drum roll here) ta dah! here are the pictures. *

Chris and Keri maybe individual members of a band, but they are in-sync and a tight pair of great entertainers.

I will be catching a night of Klassic Blak again when I am not doing reviews so I can stay for the whole show.

I know what I am missing. Don't you make the Klassic mistake and not know what you'd be missing!

*The usual What's On Central Coast policy is stage/artist photos only. Pictures shown of the patrons on the dance floor were taken with the knowledge of those involved.

THE CD REVIEW - OFF THE CHAIN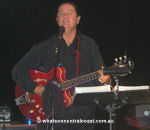 This is a recording of original songs not by the original artists. The album tracks on this CD are as diverse in their genre as the stage performances of Klassic Blak.

The vocal styles still shine through. The cd will help you relive a night with Chris and Keri and wish that you had also heard some of the ones on the CD that you missed at the show.
These are only a minute selection from the vastly extensive repertoire that Chris and Keri have at their shows.

It is like radio surfing without switching frequencies and none of those annoyingly painful ads.

There is something for all tastes of music and they are all the classic hits of their time and genres. Shania beside Mr Cooder, Simon and Garfunkel, Daddy Cool, they're all here on the one CD. Great back-ground music for parties and social gatherings.

This obviously isn't going to appeal to the heavy metal fans but it's a terrific picture of the diversity of the duo. I can see the sales of this CD being pretty good at the gigs.

The only thing I missed was detailed listing of the recording. I can tell you Shaun Cullerton was the Sound Engineer.
---

THE BIO


CHRIS ANTHONY IS KLASSIC BLAK:

(The Man of a Dozen Voices)
Chris has 35 years experience in the entertainment business as a Singer, Musician, DJ, Recording Artist, Compere, Game Show Host. Voice Over Artist and Wedding Master of Ceremonies.

Apprenticeship as Lead Singer and musician in bands in the 70's

In the late 90's he was 3 times Top Ten Grand Finalist in the Australian (National) Singing Championships.

He has performed as guest artist at Jupiter's Casino Gold Coast (QLD) Seagulls Night Club (QLD) Burswood Casino (WA) and Ettalong Beach Club NSW.

Has worked with and supported such names as Garry Sweet (Police Rescue) Recording Artist Chris Franklyn, Vince Sorenti and the infamous Carlotta.

Has performed on cruise ships in Hawaii Alaska and Europe with "on board" live show bands and in "on board" piano bars.

He has enjoyed great success known as Klassic Blak for many years.

Chris has a big local reputation with a big sound, impressive stage set and light display, high energy dance party show.
He has a huge range of Classic Hits covering 40 years of great music. His versatility ensures something for everyone from love songs and ballads, a splash of country, rock & roll and of course classic rock.

Chris is dedicated to entertaining the audience. He is assisted greatly by his great personality and incredible vocal ability. His experience working with live bands, in cabaret style one man stage performances, show bands, piano lounge bars, recorded music backings, electric and acoustic guitars makes him a very versatile performer.
Chris thrives on and specializes in club shows, weddings and other corporate functions. Currently, performing as lead vocalist with The Rebel Rousers (50's & 60's Rock and Roll and 70's & 80's Classic Hits) covers band from Coffs Harbour to Albury and performing his solo show around the Central Coast of NSW, Newcastle and Sydney.

As Klassic Blak , Chris has toured as far as the Queensland Gold Coast, to Cobar and Wollongong . Not to mention performing at corporate functions in New Zealand.

See the KLASSIC BLAK WEBSITE for Booking Details


Whats On Central Coast
is run by a true local, born in Gosford and is very proudly Central Coast & Australian owned and operated.

An extensive knowledge and a love of the area plus a genuine interest to promote all it has to offer is what sets Whats On Central Coast apart from the others.

So if you are looking for holiday, temporary or permanent Central Coast accommodation, a spot of Central Coast shopping, some brilliant Central Coast entertainment, a surf report before a dip in one of the many pristine Central Coast Beaches or a round of Golf followed by some fish and chips or maybe 5 star cuisine from one of the many Central Coast restaurants or take-away's you have definitely arrived at the right place..
We also have the resources to help with your wedding plans too!
Check the links above and also to the left and find all you'll need to enjoy a night out on the town or a whole holiday!

Welcome to my home town.

---
~ THE GALLERY ~