central coast musicians reviews musos classifieds tuition showcases recording studios stores radio stations pa and lighting Simpson's solicitors

WHERE TO STAY hotels motels bed & breakfast caravan parks backpackers

SHOPPING markets & garage sales bateau bay square erina fair gosford tuggerah

TRANSPORT buses trains cars commuters

BITS n PIECES caterers whats on blog councils community testimonials advertise?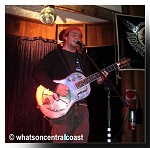 BIO & REVIEW - ARTIST .. MIKE McCARTHY




ARTIST:

MIKE McCARTHY: Vocals, Guitar

GENRE:

Blues Folk; Originals

DISCOGRAPHY:
Wisdom Is Delight
Fire Flood Freedom
Shelter And The Sea
Calm Wind
CONTACT/WEBSITE: Here

MIKE McCARTHY:

Authenticity. Integrity. Enchantment. Strong words indeed but these are qualities that Mike McCarthy has been bringing to his music for years.

McCarthy's latest contribution, Fire Flood Freedom, follows in the earthy, earnest style he established in the 2001 debut album Wisdom Is Delight, but it also demonstrates a new depth and beauty in his craft.

McCarthy is not following anyone else's lead. Although he draws inspiration from such varied influences as Ben Harper, Chris Whitley, Bruce Cockburn and Mason Jennings, McCarthy continues to imbue his sound with original brushstrokes.
Without locking him in to a category, McCarthy's style is rooted deeply in blues-folk.

It is clear to the listener that he is a country soul, a spiritual journeyman.
Here is a singer/songwriter/guitarist who makes good clean simple songs that are equal parts melodic, perceptive, agreeable and honest.

Make no mistake, Mike McCarthy is a craftsman. While his musicianship alone makes Fire well worth the price of admission, it is McCarthy's gifts as a songwriter that underpins his work and gives it maturity and consequence.

His innate propensity for contemplation shines through clearly in this album. Put simply, McCarthy is a man putting together songs that mean something.

McCarthy's journey continues. Now with two albums under the belt, and a core of aficionados from Perth to Sydney and Melbourne to Brisbane, he continues to crisscross the country under his own steam, under his own label, sharing his art.
Thanks to Wisdom Is Delight and Fire Flood Freedom, the world of music has become a little richer.
---

---

MIKE McCARTHY: Shelter And The Sea:
Pearls may be small but they have a smooth quality that makes them unique.

Shelter and The Sea is such a pearl. As different in itself in styles while the live versions are a visual conjure bag of the truth that Mike McCarthy can hold an audience just as well as his recorded works.

I can only imagine his quite obvious Aussie accent must have been a blessing for those international shows.

The recording is crisp and clear. Each instrument is clearly depicted.
This little set of ears are always suckers for a nice Rhodes sound. They were satisfied.

The last track 'Train Scare' is a blues, blues track. I had an instant flash of Rob Grosser and Don Hopkins, now whether that be intuition or imagination, time will tell but I feel they might like to hear some of this young mans work.

You can find out more about Mike McCarthy and his music at the MIKE McCARTHY WEBSITE.

---

---

MIKE McCARTHY; 16.06. 06 BRACKETS AND JAM:

Thinking to myself while making preparations to catch Mike (finally) tonight was a mixture of, "well it's about time" and "of all nights - winter and Kincumba Mountain" - the things we do.

Pleasantly surprised by the new, more user friendly access road to the mountain and temperatures not as cold as expected were only the beginning of a wonderful evening of friendship, community spirit and some wonderful entertainment from some of our local artists including young Mike McCarthy.

The set was short but most definitely sweet. Mike held the attention of what had to have been the largest crowd I have ever encountered on the Mountain thus far. Mike is well known within the Brackets community and they obviously love his work.

The majority of songs performed tonight were from Mike's latest release CALM WIND. Although CALM WIND was recorded with the full band, Mike's solo performance tonight only served to enhance the urge to hear the same wonderful words with a full music backing and some fine engineering from Jeff McCormack.

My favourite was 'In a Name' but 'Fought and Failed', 'Camouflage' and 'Waiting On the Tide' weren't that far behind.

You can hear some tracks from CALM WIND here and if you get the chance to catch Mike McCarthy take it.
Actually he and the band will be performing a dinner show at Live @ Lizottes on Thursday July 6 2006.

---


Whats On Central Coast
is run by a true local, born in Gosford and is very proudly Central Coast & Australian owned and operated.

An extensive knowledge and a love of the area plus a genuine interest to promote all it has to offer is what sets Whats On Central Coast apart from the others.

So if you are looking for holiday, temporary or permanent Central Coast accommodation, a spot of Central Coast shopping, some brilliant Central Coast entertainment, a surf report before a dip in one of the many pristine Central Coast Beaches or a round of Golf followed by some fish and chips or maybe 5 star cuisine from one of the many Central Coast restaurants or take-away's you have definitely arrived at the right place..
We also have the resources to help with your wedding plans too!
Check the links above and also to the left and find all you'll need to enjoy a night out on the town or a whole holiday!

Welcome to my home town.
---
~ THE GALLERY ~
FIRE FLOOD FREEDOM
MIKE McCARTHY
WISDOM IS DELIGHT