central coast musicians reviews musos classifieds tuition showcases recording studios stores radio stations pa and lighting Simpson's solicitors

WHERE TO STAY hotels motels bed & breakfast caravan parks backpackers

SHOPPING markets & garage sales bateau bay square erina fair gosford tuggerah

TRANSPORT buses trains cars commuters

BITS n PIECES caterers whats on blog councils community testimonials advertise?


REVIEW: GIG: ARTIST - PHIL EMMANUEL

ARTIST:
Phil Emmanuel
THE BAND
PARRIS McCLOUD - Keyboards
MITCH CAIRNS- bass
STEVE FULLER- drums
VENUE:
Grand Hotel - Wyong 24.03.2005
CONTACT:
Primal Entertainment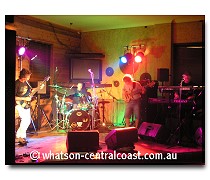 phil emmanuel - the gig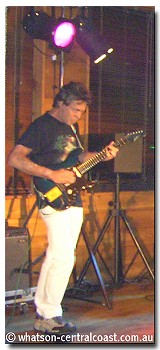 The Grand Hotel - Thursday March 24 2005
'Rover would have loved them bones' is a thought that came to mind a few times, for a few friends at this gig.

The instance that would have raised the biggest smile were Phil's words "I know I asked you to turn me down but..."

Acoustically, would that be possible in this room? If you love your guitar live 'n' loud well you should'a been there!

After another spanner was tossed tonight (I could have a whole set soon!) I finally made it to Wyong. A tad concerned I would have missed the show, what a nice surprise to discover that everything had been moved forward an hour or so.

I did unfortunately miss the support act - 'Jade'. I will have to catch them another time.

Phil and the band finally hit the stage with a tune from their end of year new release album, 'E.G.P' (Electric Guitar Player). What an appetiser that was. The main course ought to be a tasty morsel.

With what appeared to be no set list and a few apparent tangents that carried Phil away, the band did a tremendous job anticipating. The longer they are together the easier that will become, I'm sure.

All credit to them, they are definitely a support band.

Parris' talents have matured quite nicely since way back when I last saw him play and his style and appreciation for the music shines. His solo piece in the Guitar Boogie was too short for me but I believe he enjoyed it just as much by the amount energy and the smile that accompanied it.
No guitar based instrumental set would be a true one without the Peter Green classic 'Albatross'.

Definitely one of my top-o-the-listers. It was great to hear. I think a tad artistic liberty was taken in the intro but it was a rendition that had the crowd listening with three ears while The Rise and Fall of Fingal Bunt had them on the floor dancing their socks off.

I had to leave after the first set and I can only imagine the show hit it's crescendo not long after. The audience were ready to play and well, Phil was there already.

The mans name is synonymous with 'Australian rock music guitar greats' for no invalid reason.

The drumming of Steve Fuller was an interesting watch. Sometimes relaxed often anticipatory but he has a unique way and seems at ease with the unknown. That is a great bonus for him.

Mitch's unusual bass style was also intriguing. He looks as though he loved being up there with the master and he gave his all to produce some great sounds. This will be a great notation on his CV.
All in all it was a great show. I am still interested in discovering how different the sound in a more acoustically friendly room.

The guys from All Sound were doing a fine job and were on the ball for each request. The lighting was an interesting mix which gave some pretty pix. A tad more on Parris would have been a plus but the stage set up would then had to have been almost round.

If you get a chance to see Phil and the band do it. If you are a guitar fan you will not be disappointed.


Whats On Central Coast
is run by a true local, born in Gosford and is very proudly Central Coast & Australian owned and operated.
An extensive knowledge and a love of the area plus a genuine interest to promote all it has to offer is what sets Whats On Central Coast apart from the others.
So if you are looking for holiday, temporary, or permanent Central Coast accommodation, a spot of Central Coast shopping, some brilliant Central Coast entertainment, a dip in one of the many pristine Central Coast Beaches followed by some fish and chips or maybe 5 star cuisine from one of the many Central Coast restaurants or take-away's you have definitely arrived at the right place..
Check the links above and also to the left and find all you'll need to enjoy a night out on the town or a whole holiday!
Welcome to my home town.
---
~ THE GALLERY ~
Parris McCloud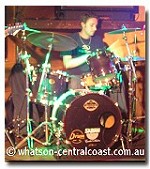 Steve Fuller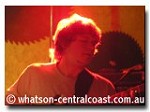 Mitch Cairns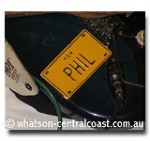 Guess Whose?