central coast musicians reviews musos classifieds tuition showcases recording studios stores radio stations pa and lighting Simpson's solicitors

WHERE TO STAY hotels motels bed & breakfast caravan parks backpackers

SHOPPING markets & garage sales bateau bay square erina fair gosford tuggerah

TRANSPORT buses trains cars commuters

BITS n PIECES caterers whats on blog councils community testimonials advertise?

REVIEW - ARTIST: PSYCHO TAIKO

MEMBERS:
CHERRY:
SEAN
NITA
E-YANG

INSTRUMENTS:
Taiko Drums

VENUE:

The Memorial Park Stage

WEBSITE:
Psycho Taiko

THE REVIEW

PSYCHO TAIKO: New Years Eve 2004; Memorial Park, The Entrance:

Having an interest in all things Japanese, I was all a tingle with anticipation to catch the Psycho Taiko's at the NYE gig. Wow, I wasn't disappointed.

It was a visual and aural delight. A modern day version of such an ancient art, it is quite fascinating to watch and imagine, all the different ways in which this art has been used over the centuries.

Time has not diminished the appreciation by most for this ancient form of music.

With a stage full of talented artists and lots of drums it was truly an exceptional event. The rhythm of life was loud and clear.

I can't wait to see these guys again and know that the longer they stay together the more proficient and tighter they will become.
Catch them if you get a chance, it will definitely be worth your while.

images and text ©whatsoncentralcoast.com.au

THE BIO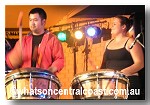 PSYCHO TAIKO

:
The Psycho's are essentially made up of Cherry and Sean but for occasions needing extra support, sound and presence, we can bring in two of our session players Nita and E-Yang who are both in the music industry as their profession as well as currently studying music at the Conservatorium of Music in Sydney; E-Yang is a composition major and Nita is a Classical Percussion major both studying full time.

Cherry has been involved in the Performing Arts and Entertainment industry with her own dance troupe performing beautifully choreographed routines with stunning costumes.

Cherry has been drumming with Sean for about 18 months now, playing an active part in providing wonderful promotional material for the group, covering all types of material from business cards, web site, and advertisement material, to show bookings and contacts.

Cherry continues to plan and incorporate new ideas and plans into Psycho Taiko's performance arrangements including rhythm and visual ideas.
Sean, being the groups co-coordinator, gained his Bachelor of Music Honours and Graduate Diploma in Education Degrees over the period of 1998 – 2003 and is a continual staff and member of the Central Coast Conservatorium of Music and Symphony Orchestra, Big Band, Gosford City Brass Band, and many other groups around the coast... and of course "Psycho Taiko!"

Sean also takes private percussion tuition at Central Coast Grammar School, Valley View P.S, and Erina P.S, as well as private teaching from his home studio.

Sean has immersed himself in as many aspects of music as possible over the years from continual classical/orchestral percussion playing, to regular club jazz/rock/fusion style gigs as well as some studio work with local artists "Strawberry Blonde" in 2004/05.

Sean also holds a keen collection and Industrial interest in the making of instruments including drum kits and the wine barrel Japanese style Taiko Drums seen in the groups setup.

Whilst maintaining all these avenues Sean has formed a keen interest in the world music scene particularly in the last few years and with a wide vocabulary of African and Latin percussion/kit patterns has formed the ever-growing face of Psycho Taiko in late 2004.

Psycho Taiko , in any of its forms, is available and does perform for any occasion or event including corporate functions, weddings, festivals, and any other type of small or large group events - we can be anything from 1 or 2 players to 4, 6, 8, or whatever is required for the event!

Information supplied by S Cadogan
---

© whatsoncentralcoast.com.au

---

---

---

Whats On Central Coast is run by a true local, born in Gosford and is very proudly Central Coast & Australian owned and operated.
An extensive knowledge and a love of the area plus a genuine interest to promote all it has to offer is what sets Whats On Central Coast apart from the others.
So if you are looking for holiday, temporary or permanent Central Coast accomodation, a spot of Central Coast shopping, some brilliant Central Coast entertainment, a surf report before a dip in one of the many pristine Central Coast Beaches or a round of Golf followed by some fish and chips or maybe 5 star cuisine from one of the many Central Coast restaurants or take-aways you have definitely arrived at the right place..
We also have the resources to help with your wedding plans too!
Check the links above and also to the left and find all you'll need to enjoy a night out on the town or a whole holiday!
Welcome to my home town
---
~ THE GALLERY ~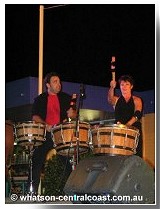 PSYCHO TAIKO