central coast musicians reviews musos classifieds tuition showcases recording studios stores radio stations pa and lighting Simpson's solicitors

WHERE TO STAY hotels motels bed & breakfast caravan parks backpackers

SHOPPING markets & garage sales bateau bay square erina fair gosford tuggerah

TRANSPORT buses trains cars commuters

BITS n PIECES caterers whats on blog councils community testimonials advertise?

REVIEW - ARTIST .. SPECTACULAR FEETS




MEMBERS:


KEITH HALL: Vocals, Guitar
ANDREW HAZARD:Vocals, Drums


GENRE:
Rock Covers

VENUE:


Bateau Bay Hotel

THE REVIEW

SPECTACULAR FEETS: Saturday 29 January 2005: Bateau Bay Hotel:

Arriving with only the last set to go, we had a job trying to get the attention of the boys for permission for pics.

The fact that their concentration was possibly on performing and the young lady who was trying desperately to kamikaze all that expensive equipment the guys were using to entertain her, was a sorrowful one indeed.

Ten points to the band, they remained true gentleman and tolerant professionals.

Thankfully one of the ever vigilant security officers realised the danger she was posing to the equipment, herself and the band and and safely removed her from the floor and limelight of the stage area.

Great! Back to the show!

Towards the end of the set the boys did seem to have some unfortunate troubles with the sound equipment with some feedback and distortion. This was fixed and some really lively music was enjoyed by all. Shake a Tail Feather had them wiggling tushes on the floor, followed by some Wild Thing and Bad Moon Rising.

The songs were an interesting and entertaining selection and I am curious as to what we missed in the first few sets.

Gary Moore, Bryan Adams, Daddy Cool and Joe Cocker classics were handled quite deftly by these two seasoned artists.

With the state of the budgets and un-willingness of the venues to hire more than duos, Spectacular Feets have solved one of the major pitfalls of magic box music... real live hand drum. It adds so much depth to have some rhythm and a lower end feel to the songs that were played.

There is much more to this duo than we saw. I am eager to have the time on our next meeting to get some more details.

I must remember to ask Andrew if he is the brother of Paul from the Melbourne band Tall Poppies circa 1993.

Crowd control and equipment faults aside these two provided some great fun for the eager punters on the dance floor.

Was it the band or the dancers who had the Spectacular Feets?
You'll never know if you never go!


Whats On Central Coast
is run by a true local, born in Gosford and is very proudly Central Coast & Australian owned and operated.

An extensive knowledge and a love of the area plus a genuine interest to promote all it has to offer is what sets Whats On Central Coast apart from the others.

So if you are looking for holiday, temporary or permanent Central Coast accommodation, a spot of Central Coast shopping, some brilliant Central Coast entertainment, a surf report before a dip in one of the many pristine Central Coast Beaches or a round of Golf followed by some fish and chips or maybe 5 star cuisine from one of the many Central Coast restaurants or take-away's you have definitely arrived at the right place..
We also have the resources to help with your wedding plans too!
Check the links above and also to the left and find all you'll need to enjoy a night out on the town or a whole holiday!

Welcome to my home town
---
~ THE GALLERY ~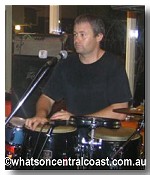 Andrew Hazard