central coast musicians reviews musos classifieds tuition showcases recording studios stores radio stations pa and lighting Simpson's solicitors

WHERE TO STAY hotels motels bed & breakfast caravan parks backpackers

SHOPPING markets & garage sales bateau bay square erina fair gosford tuggerah

TRANSPORT buses trains cars commuters

BITS n PIECES caterers whats on blog councils community testimonials advertise?

DETAILS - THE EVOLVRS

BIO - THE EVOLVRS

THE EVOLVRS:


In Oct '09, after working on a few songs and musical ideas, Brent invited Robert & Carlton to jam on them at a mad party up on Mangrove Mountain. Much fun was had and the boys went over so well they decided to make it an ongoing project and evolve the ideas as a band…….a name was found!

The 1st gig was a few weeks later to a full house at Jack's Bar, Erina, supporting and backing Kerrie Garside for her CD launch in early November.

Brent had always wanted a female vocal in the mix and Kerrie's guitar and voice blended effortlessly…….soon after, they invited her to join in the fun.

Brent: "My fondness is not really for a particular style, it's always been about the singer and the song for me. Having said that, although T-Rex, The Stones, Jeff Beck and Rod Stewart were hugely influential, I'm drawn to American music..…country, soul, funk, jazz and of course reggae. I grew up in NZ and where I really learnt to play was at parties with Maori musos…I loved it! They were jammin' on Bob Marley & Jimi (of course!), Stevie Wonder, Santana, Marvin Gaye, Sly etc. and that blended with my love of Americana, from The Allman Brothers and Linda Rondstat in my teens to Springsteen…with Lucinda Williams and Ryan Adams being current faves. Top of my list?......would have to be Prince.

Robert plays a relaxed, but sharp, old school funky style that reminded me of old motown and stax records, with some real cool jazz sensibilities, and Carlton's got the taste and chops to play just the right groove and nail it. Kerrie plays acoustic with a great sense of rhythm and groove and her & Robert's voices are just a joy to sing with. I can't help but bring my country and reggae spices to the party, and on the count of 4 we start playing and see what evolves.
Our music is roots based….not in the sense of John Butler or The Soggy Bottom Boys….but in the sense that it's organic (guitars, not turntables) and inspired by the songs and styles of American heritage.

We really feed off the energy from the audience and want everyone to feel part of the music. Music is for bringing people together and sharing. We may count to 4 and play the instruments, but dancing and singing is all ages and all in."

They're also planning to record around the same time... sounds online soon.


Whats On Central Coast
is run by a true local, born in Gosford and is very proudly Central Coast & Australian owned and operated.

An extensive knowledge and a love of the area plus a genuine interest to promote all it has to offer is what sets Whats On Central Coast apart from the others.

So if you are looking for holiday, temporary or permanent Central Coast accommodation, a spot of Central Coast shopping, some brilliant Central Coast entertainment, a surf report before a dip in one of the many pristine Central Coast Beaches or a round of Golf followed by some fish and chips or maybe 5 star cuisine from one of the many Central Coast restaurants or take-away's you have definitely arrived at the right place..
We also have the resources to help with your wedding plans too!
Check the links above and also to the left and find all you'll need to enjoy a night out on the town or a whole holiday!

Welcome to my home town
.
---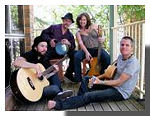 The Evolvrs