central coast musicians reviews musos classifieds tuition showcases recording studios stores radio stations pa and lighting Simpson's solicitors

WHERE TO STAY hotels motels bed & breakfast caravan parks backpackers

SHOPPING markets & garage sales bateau bay square erina fair gosford tuggerah

TRANSPORT buses trains cars commuters

BITS n PIECES caterers whats on blog councils community testimonials advertise?

ARTIST - REVIEW: 1- THE OUTSIDERS

THE OUTSIDERS:

It's the "rare" things in life that make it special. The same goes for the occasions that these three exceptionally talented and well respected Central Coast musicians join together as THE OUTSIDERS.

The band's set lists contain those that may not have been number ones but you'll find yourself saying ... "oh yes, I remember this one". The B sides and those tenacious classic chart recordings that were the songs of our lives and a key to a memory.

Each song is a real nostalgia trip back to the good old days of Peace, Love and Mung Beans. How about some Hendrix, then a lil piece of Lovin' Spoonful and a dash of Deep Purple... You'll learn some very interesting facts from the "music guru" Jim Heywood as well.

The world is as it should be at an Outsiders gig!

So, if you happen to be passing a venue advertising this band playing, come on in, don't be an Outsider....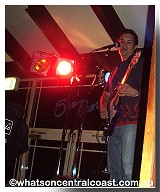 THE WOODPORT INN
MAY 6 2006:
THE OUTSIDERS have added some new selections to their repertoire of songs you'll remember. Bringing some tasty treats from the 70's 80's and 90's to their shows has created an even larger fan base for this popular covers band due to celebrate their 14th year of performing on the Central Coast of NSW.

The Woodport Inn and the Kendall Bar at the Central Coast Leagues Club are just two of our local venues who have placed The Outsiders on their entertainment calendars for regular appearances.


This gig at the Woody was unlike any I have had the pleasure of attending.
With impromptu request undertakings this show was, in places, as entertaining in a comedic fashion as it was in a musical one.

Some of the more recent covers undertaken by The Outsiders are hits from artists such as Gary Numan, Duran Duran and more recent hits like Catch My Disease.

Keep your eyes peeled at an Outsiders gig both on and off the stage. There are some great local musos who also like to be entertained by this terrific trio.
HEYWOODS TALES

HEYWOODS TALES:

For the devotees of music it is always fascinating to hear or read little trivial tid bits from those who were in the thick of it back then.
Glenn A baker is legend for his knowledge and tales.
The Central Coast has it's own Glenn A Baker in the form of Mr. James A Heywood.
Following are some snippets of the past of this most talented and endearing gentleman.

THE BEATLES MUSIC A PHENOMENON OF THE 20TH CENTURY:


As I sit at home listening to another fine tribute to the music of a group of four young men from Liverpool England, I think of the multitudes of artists who have been touched by the moving yet simple construction of this memorable music.

No one can doubt how this popular music has inspired musicians to search for new sounds and expand the boundaries of what a three minute pop song should contain to entertain and demand the attention of the listener.
Four young musicians with the vision and a assistance of a resident EMI producer utilizing the recording studio capabilities to the fullest.

I first heard The Beatles 47 years ago on a television program that used local performers miming to the hits of the day. As a seven year old not really into too much music, as there were trees to be climbed and many fascinating places outdoors to be discovered.
Yet this new tune that I heard grab my attention almost immediately and changed the way I felt for music as a listener and a musician.

To this very day I still feel a stirring of excitement whenever I perform a Beatle song in the knowledge that this music was the starting point of my musical journey.

I know there are many people who share the same passion and in turn share it with many others who live with the music that has shaped popular music forever.
LISTEN, ENJOY, LIVE IT AND LOVE IT - WE LOVE THE BEATLES YEAH, YEAH, YEAH !!!!!!!!

THE BEE GEES :


Recently I attended a Simply Red concert at the Bimbagden winery. Great concert of course although a slight faux pas via lead singer Mick Hucknall.
He introduced a song from that fab group The Hollies and claimed them to be the first supergroup to come out of Manchester. Don't get me wrong dear readers i dearly love their great hits of the 60s and early 70s and as a child was swept away by the brilliant vocal harmonies and i'm sure Mr .Hucknall was unaware of the real pioneers of the Manchester sound.
We could all say we adopted the boys as our very own when they first ventured out to the land oz from their native UK.

The family decided to settle in Brisbane, although the lads were quite young they still had a track record of performances in talent quests and small shows in the Manchester area.
We all first saw them on Brian Henderson's Bandstand in the early 60s so young and so talented.
By the mid 60s the BEE GEES were a household name every age group loved their catchy songs and come 1966 Spicks and Specks was a huge national hit for them. They had grown up, went to find their fortunes back in England and the rest is history.

So to get the record straight the first supergroup from Manchester: may i introduce to you the global sons of popular music THE BEE GEES. I'm sure Mick Hucknall will eventually realise and be thrilled to know the full story of this talented family. Who knows dear readers he may cover some of the boy's great musical gems.

BEACHHEAD Patonga Blues By The Bay:


It was great to catch up and watch an old friend perform at the recent event.We met 30 years ago at a wine bar in Glebe when the Layabouts were playing their regular sat night gig.

Beachhead aka Rod Jefferies sat in to sing a few songs he continued to lift the roof off that little establishment and a friendship was struck up straight away.So for many years after that he continued to entertain audiences around the country.In 2008 he bought his band to the coast and made a lasting impression at the 1st Central Coast Blues Festival and Patonga Blues By The Bay where he was backed by Adam Barnard drums, Raoul Hawkins,bass and Gary(guitar)Dale guitar. Beachhead brought the day to a close after witnessing a day of fine music from all the artists involved.

I could write pages and pages about my old friend so those of you who are curious google the name Beachead to see what this man is all about and go on youtube type in beachblues and check out the man in action.Also type in beachhead to see if anymore entries have been made.
We both have expressed interest to have a chance to perform together again as soon as can get leave from our regular bands.

Beachhead brings the music to the audience from the heart as all great blues men have done for over a century and my life has been enriched by witnessing this talented singer in action.
Keep the blues alive!!!

THE PASSING OF ROD 'BEACHHEAD' JEFFRIES:
I regret the passing of Rod 'Beachead' Jeffries Feb25th after a long illness. Central Coast blues fans will remember Beachhead performing at the 2008 and 2009 Gosford Blues Festivals also 2008 Patonga Blues Across The Bay.
He was much loved by his musical family and will be missed by all who knew and performed with him for over 35 years.
Beachead left us all a great legacy and some of his performances can be viewed on Youtube just type in Beachead blues.
A great friend to all who sang from the soul.
Regards Jim Heywood.
Posted February 27 2010




WORLD PHENOMENON:


I'm a little bit concerned at the small amount of people taking up a musical instrument at the moment until about a year ago I saw a group perform in Sydney and 4 of the band members were playing ukuleles.

What a great sound my enthusiasm led me to eagerly ask questions about their interest in this wonderful instrument and their eyes lit up at my enquiries.
Apparently a revival has occurred worldwide and uke clubs have popped up all over the globe.
I have surfed the net and found an enormous amount of material on the subject which has led me to take up the instrument and coming from a drummer of long standing sounds like a unusual progression, my wife thinks it looks a bit silly but I told her I'm not about to inflict it on the general public only for my own personal enjoyment and maybe a sing along with friends at parties.

So compact, easy to play, light and can be accessed for an instant sing-along.
This instrument can be learnt in just 3 minutes by anyone of all ages.

Lets us all help the world to a ukulele led recovery in musical enjoyment for everyone. Just check the many resources on the internet and have yourselves an instant party. Ukulele Jim.



GET BACK TO THE GOOD OLE DAYS!:


Oh how we pine for days of pub rock. The 70s and 80s music culture, some great times and many great bands. Will there be a revival as pokies lose their novelty factor? People power is a very effective tool in our society.
A door charge and a few refreshing drinks with friends sounds appealing to a lot of punters. Come on girls and boys you cant beat a good live show, so if you want to return to the glory days that your parents enjoyed make your demands known to all the pub owners and lessees. What do we want great bands in pubs when do we want it now!!!



2JJ:


The best thing to happen to radio was the birth ABCs youth network which we all take for granted these days.
2JJ hit the airwaves in 1974 and changed the sound of radio forever.fter a few test broadcasts the tune played which started it all "You Just Like Me Cause I'm Good In Bed" by our cheeky friends from Melbourne Skyhooks.

The station could only be heard in Sydney and transmitter problems hampered the network in the early days so not everyone could get the signal.

In the early days a string of free outdoor concerts were held in various areas in Sydney, I attended at least two of them. Skyhooks at Dawes Point under the harbour bridge a great day in the sun.St Leonards Park with a new band from SA called Cold Chisel still new to the scene and greeted with polite applause and another band from the same state who wound up the afternoon The Angels, I didn't see a single soul sitting down for their set and as we all know both bands went on to make their mark and bring pleasure too many.

Watch this space for the next installment of a long line of glimpses from my memoirs..



NICK CAVE:


I have some fond memories the night Nick Cave borrowed my snare drum after I finished my set with Popular Mechanics in 1980. At the time Nick was in a band called The Birthday Party. Throughout their entire performance he hit the drum with one single beat - that was it. I must admit his band were famous for their surreal antics at that time.



FRENCH'S TAVERN:


'French's Tavern' Oxford St, Darlinghurst in the late 70's. It had been a wine bar since early 20th century and started as 1 floor only. They used to pack them in with jazz and blues until they opened downstairs for music 6 nights a week. Saturday afternoons were more laid back so a band could have a residency for a long stretch.
When I was in The Layabouts we held it for 12 months. Many well known bands, Midnight Oil, Paul Kelly and the Dots, The Reels, Richard Clapton and others played there getting an opportunity to try out new material in their early days.
They would squeeze in about 100 on a good night and for the price of a couple of mugs of cider you could have a great night out with change from 5 bucks and enough for the bus fare home or walk to a friends house a crash on their floor.



DEEP PURPLE, FREE, MANFRED MANN:


Flash back to 1971; Randwick Racecourse. I suppose my first major concert. Now I think the ticket was $4. How's this for a lineup:- Deep Purple, Free, Manfred Mann's Earth Band and Aussie band Piranna. For a 16year it was a musical paradise. It is still a wonderful memory and I'm sure someone out there has a review in a old Go set mag of that time.
One of the main things I noticed of that era was hair and lots of it long and flowing on females and males.
We must have looked after it well because I remember seeing at least 20000 heads of glistening locks.



MENTAL AS ANYTHING:


My first meeting the guys from Mental As Anything... The Tin Sheds in Chippendale was a venue that doubled as the Sydney Uni arts and graphics workshop. The Mentals and The Layabouts put on a dance for the students this would have been 1978 well before Nips Are Getting Bigger came out as a limited EP. They use to cram them in ,so about 200, 20 something students paying 2 bucks a head and BYO were treated to a mixture of rhythm&blues and 60s pop tunes. The Mental's played mainly covers in those days with a few originals thrown in. Our band did alternate sets with the boys, giving the crowd a good mix of fun sounds. It was a fun night for all and both bands had great laugh together and exchanged humourous anecdotes .In those days inner city bands had residencies at various venues.The Mental's could be seen at The Unicorn Hotel Paddington where they played inside the bar amongst the waiting staff and they had the opportunity to craft their sound in between schooners .I found the guys on several meetings great fun to be with and like all us boys from that era loved talking about comics and 60s sitcoms...

Byes Guys and Cheers Dears
Jim


Whats On Central Coast
is run by a true local, born in Gosford so it is very proudly Central Coast and Australian owned and operated.

An extensive knowledge and a love of the area plus a genuine interest to promote all it has to offer sets Whats On Central Coast apart from the other 'local' sites.

So if you are looking for holiday, temporary, or permanent Central Coast accommodation, a spot of Central Coast shopping, some brilliant Central Coast entertainment, a dip in one of the many pristine Central Coast Beaches followed by some fish and chips or maybe 5 star cuisine from one of the many Central Coast restaurants or take-away's you have definitely arrived at the right place.

Check the links above and find all you'll need to enjoy a night out on the town or a whole holiday!
Welcome to my home town.
---
~ THE GALLERY ~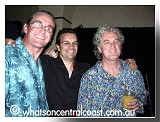 THE OUTSIDERS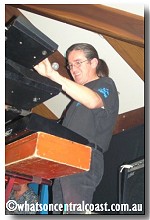 DAVID (KRUSTY) UNDERWOOD