central coast musicians reviews musos classifieds tuition showcases recording studios stores radio stations pa and lighting Simpson's solicitors

WHERE TO STAY hotels motels bed & breakfast caravan parks backpackers

SHOPPING markets & garage sales bateau bay square erina fair gosford tuggerah

TRANSPORT buses trains cars commuters

BITS n PIECES caterers whats on blog councils community testimonials advertise?

 

Arts on the Radio Coast Arts is a radio program broadcast from 6-7pm Sundays on Coast FM 963, Central Coast Community Radio.

Coast FM broadcasts from Gosford on the Central Coast of NSW, Australia.

Check out more about Coast FM on the website

Each week Coast Arts has a selection of news, views and voices
from arts on the Central Coast.

The program is produced and presented by Meredith Gilmore as a volunteer presenter with Coast FM 963.

ART and PHOTOGRAPHY GALLERY DIRECTORY
GALLERY

ADDRESS

PHONE

Art Studios Gallery
391 Mann Street
North Gosford

4339 3349

Blackbird Tattoo and Art Studio
17b/8 Karalta Lane,
Erina

4367 7770

Bobbie P Gallery
11 Alison Road
Wyong
Central Coast Art Society
Webb Street
East Gosford
Central Coast Potters Society
10a Russell Drysdale Street
East Gosford
Ken Duncan Gallery and
The Sanctuary Cafe
414 The Entrance Road,
Erina Heights

4367 6701

Echidna Art Gallery
2/67 Pacific Highway,
Ourimbah

4362 3144

Edogawa Gardens
GOSFORD REGIONAL GALLERY
36 Webb Street,
East Gosford
See the upcoming exhibitions >>>

4325 0056

Ferry Artists Gallery


Shops 1 and 2 Old Northern Road,
Wiseman's Ferry

4566 4385

The
Fletcher Gallery
17 Dolly Avenue
Springfield

0497 766522

Fredericks Antiques
and Art
275 Ocean View Rd,
Ettalong Beach

4342 9988

Gosford Regional Gallery
Edogawa Gardens
36 Webb Street,
East Gosford
See the upcoming exhibitions >>>


4325 0056

HANG-Nicole Ruiz Gallery
212 Brooklyn Road,
Brooklyn

0414 765 033

Jacqui's Art Studio
and Gallery
219 Buff Point Avenue
Buff Point

4399 2898

KAB Gallery
Crowne Plaza Terrigal
The Esplanade, Terrigal

1300 78 7773

Litchfield Studio
8 Mimosa Avenue,
Saratoga

4369 1497

Camelle Deny
Fine Art Gallery
Lot 3 Avoca Drive
Kincumber (Lizottes)

0448 876 535

Patonga Bakehouse
19 Bay Street,
Patonga

4379 1102

Peter Denton
Somersby Gallery
87 Kilkenny Road,
Somersby

0412 749 009

Sanaa Afrika
2A/490 The Entrance Road
Erina Heights

4367 4421

Suma Suma Gallery
Shop 10, 192 Avoca Drive,
Avoca Beach

0414 875 823

The Entrance Gallery
The Entrance Community Centre Oakland Ave, The Entrance

TBA

Toowoon Bay Gallery
179 Bay Road,
Toowoon Bay

4332 6023

TTwo Peaks Gallery
14 Hillside Road,
Avoca Beach

4382 3816

Two Birds Gallery and Cafe
104 Pacific Street ,
Toowoon Bay

4333 6742

Warrigal Australian
Aboriginal Art
5/1 Killcare Road,
Killcare

0419 287 994

 
 
 
AGENCY

ADDRESS

PHONE

OzTix

Macron Music, Erina and Tuggerah
Leading Edge, Gosford
East Gosford Music


Ticketek

Dane Drive, Gosford

Ticketek Mingara

4349 7888

Ticketmaster

The Entrance and Wamberal

 
 

COAST ARTS:
The aim of all Coast Arts activities - on the radio and online - is to contribute to promotion and development of arts on the Central Coast.

Coast Arts radio show is broadcast weekly on Coast FM 963 Sundays 6-7pm.

You can also listen to Coast FM via the TuneIn Radio app or via live streaming at the Coast FM Website.

The program is produced and presented by Meredith Gilmore as a volunteer presenter with Coast FM.
Margaret Meehan produces and presents the show when Meredith takes a break.

Most interviews on the program are pre-recorded with people from the arts community across the Central Coast. Each week we also include an 'Arts News' segment in addition to interviews.

Coast Arts website and other online activities are run by Meredith Gilmore as a social enterprise to complement the radio program. The Coast Arts website is where you can to listen to interviews already broadcast on the program, and find links to groups and individuals who've been featured on the show.

Check out the website also for opportunities to become a supporter or sponsor of Coast Arts website.

If you're interested in finding out about being included on the radio program, or to have your arts event or group promoted in Arts News or on Facebook and/or Twitter, contact Meredith Gilmore:
by email [email protected]
or by phone on 0419 482 498

---

Gosford Regional Gallery:
The Gosford Regional Gallery is located on the shores of Caroline Bay in East Gosford. It is part of a complex that also includes the Gosford/Edogawa Commemorative Garden, the Arts Centre and the Caroline Bay Brasserie, Cafe & Function Centre

Gosford Regional Gallery boasts 3 exhibition galleries, two state of the art spaces with modular wall systems that can be formated to 1 or 2 separate area's as well as a large foyer gallery.

For more information, visit www.gosfordregionalgallery.com or call 4304 7550

Gosford Regional Gallery is open daily from 10am until 4pm. Admission is free.

---

Art and Craft Market for 2018:
We are returning to Studio 2 Gosford Regional Gallery Webb St East Gosford on the First Saturday of the Month

February 3rd, March 3rd, April 7th, May 5th, June 2nd, July 7th

Opening from 10am to 3pm

Enquiries Phone Diane 43 419034
We are looking for new members.

If you are interested come along and see what we are all about.
Phone Doris 43694221 or Nan 43632210

---

---

ARTS STUDIOS CO-OPERATIVE:
Art Studios Cooperative - a new artist run initiative for Central Coast artists.

We have a new exhibition every 2 weeks (usually)

Art Studios Gallery is operated by Art Studios Cooperative.

Hours: Wed - Fri 11am to4pm, Sat/Sun 10am to 4pm

ART STUDIOS CO-OPERATIVE LTD
Studios - Gallery - Workshops
391 Mann Street, Gosford NSW 2250
02 4339 3349
www.facebook.com/artstudioscooperative
www.artstudioscooperative.org

See the website for more details

---

---

THE FLETCHER GALLERY:
Due to frequent public request, Zoe Fletcher is opening her small art gallery at 17 Dolly Ave, Springfield for you to view a range of her delightful art works created in soft pastels, oils, silk and watercolour, plus her luscious hand-dyed silk scarves, her prints and art cards.

For the first time in Australia, a selection of NZ artist Craig Fletcher's exquisite ceramic jewellery will be available

Joining them will be Zoe's daughter with her range of graceful barefoot sandals.


---

SANAA AFRIKA GALLERY:


The Gallery Space in Erina Heights is closing and it continues in POPup format.

All other retail, wholesale and online areas of the business remain the same.

The first POPup is in March in Wyong as part of the Activate Program for social entrepreneurs run by the Wyong Council.

The POPup in Wyong is called The Fair Trade Hub.

In line with the first Fair Trade principle of providing opportunities for the economically disadvantaged we offer a 10-day workplacement position for a student to complete their Cert II in Retail during the POPup.

The management of the POPup is done by The Fair Trade Way

---

MULTI MEDIA ART CLASSES


Does your child show interest in drawing, painting or other creative activities and do you need a little more time after school?

I run an after school class at the Art Studios Co Op, 391 Mann St Gosford.

Digital Art
Drawing
Painting
Mixed Media

I am degree qualified in Fine Arts, Design and Architecture.

I am fully insured and have a working with children clearance.

Come and say hi!

Classes commence at 4.30pm from Tuesday 7th August 2018

Kath Harding
Art Studios Co Op
391 Mann St
GOSFORD
Ph 0413 087 010


---

LIFE DRAWING FOR BEGINNERS


Every last Friday of the month at 6pm.
2 hour duration*

No experience required just a desire to explore your creative side!

Your local life drawing at Long Jetty, come for the art stay for the free wine.

A relaxed low key environment, great models and meet like minded people on the coast.

$20 a session. Everything is supplied, or byo own materials if preferred. Paints and canvass are welcome upon notice.

Low key, chilled, studio environment at 145 Tuggerah Parade Long Jetty

Email [email protected] to confirm or 0435133047

Facebook Us! "Life Drawing for Beginners" & like our page for further updates!

Hope to cya there!
Samantha.

---

SANDRA McARTHUR:


Sandra McArthur Artist and Teacher

The Central Coast, NSW is my home and inspiration. I have exhibited in solo and group exhibitions in Australia and overseas in New York and Italy.

Works have also been purchased by local and interstate collectors through private sales and commissions.

In my artwork I explore the notion of our world as an illusion, made up of mainly space. In the blurred moments of consciousness in the beauty of the nature I wish to express a feeling of timelessness: time, objects and space becoming one.

I have taught art to both adults and children in my own home studio in Canberra, North Avoca, at the Central Coast Community College and Gosford Regional Gallery.

Please EMAIL SANDRA for more information

---


WHATS ON
CENTRAL COAST

Prime Promotional Space
right here for your business or Gallery

Email Us your enquiries

---
The Friends of the Performing Arts Precinct Incorporated are based on the NSW Central Coast Region of Australia and represent all forms of performing arts.
The Vision of the Friends includes:
* an acoustic Concert Hall to seat 1000
* a new Conservatorium of Music
* a regional Auditorium
* performance spaces for dance, drama, bands, singers
* a cultural display centre for Indigenous people
* cafes, public spaces!
---

ART EXHIBITION:
Would you like to list your exhibition here?
E-Mail Debbi at
Whats On
Central Coast.
---
THE GALLERY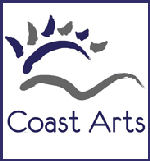 Each week Coast Arts has a selection of news, views and voices from arts on the Coast.
The program is produced and presented by Meredith Gilmore as a volunteer presenter with Coast FM 963.
---
ART STUDIOS
CO-OPERATIVE LTD

Studios
Gallery
Workshops

391 Mann Street
Gosford
02 4339 3349

WEBSITE

---