central coast musicians reviews musos classifieds tuition showcases recording studios stores radio stations pa and lighting Simpson's solicitors

WHERE TO STAY hotels motels bed & breakfast caravan parks backpackers

SHOPPING markets & garage sales bateau bay square erina fair gosford tuggerah

TRANSPORT buses trains cars commuters

BITS n PIECES caterers whats on blog councils community testimonials advertise?

EVENT REVIEW - LIVE AND ORIGINAL - HOME BRED

TONIGHTS PERFORMERS:
BEN ROBERTS - Vocals, Guitar
BRETT O'MALLEY - Vocals Guitar
ANTHONY SNAPE - Guitar, Vocals
SHAUN McGRATH - Voclas, Guitar
AK PERCUSSION - Percussion

VENUE/DATE:
The Dekk Bar - Terrigal June 29 2007

CONTACT: BEN ROBERTS

THE REVIEW

LIVE AND ORIGINAL - HOME BRED SERIES- Dekk Bar - 29.06.07:

The Central Coast original music scene has another selfless and tireless promoter in Ben Roberts.

Live and Original is fast becoming the LIVE place for supporting and promoting Central Coast original music of all genres.
Live and Original started with upward of a couple of events per week, with its sub series like Home Bred and Live and Acoustic. It is giving Central Coast music lovers an introduction to the many talented performers here on the Coast.
Ben provides the sound, the light, the music and the venue - all you need do is come along and enjoy! Ben Roberts is not just a promoter, he is a singer/songwriter himself as well as being a dad and a registered nurse. Where he finds the time I will never know!

This nights performers were a wonderful selection of our local singer songwriters.. Ben Roberts, Anthony Snape, Brett O'Malley and Shaun McGrath with support from AK Percussion and Paul Quentin on bass guitar for some of the sets.

There was some competition "music" from the downstairs restaurant which was only aggravated by the fact there was no coffee available from the venue - apparently this was a one off situation but, hey, it's Terrigal - there's no shortage of coffee shops here..

Live and Original now has a showcase night twice per month at Diggers @ The Entrance.

For more info see the LIVE AND ORIGINAL MYSPACE PAGE or contact Ben via email for details on becoming part of a showcase.

WELCOME TO WHATS ON CENTRAL COAST
---
~ THE GALLERY ~
BRETT O'MALLEY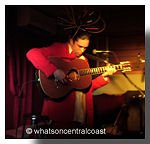 SHAUN McGRATH

ANTHONY SNAPE