central coast musicians reviews musos classifieds tuition showcases recording studios stores radio stations pa and lighting Simpson's solicitors

WHERE TO STAY hotels motels bed & breakfast caravan parks backpackers

SHOPPING markets & garage sales bateau bay square erina fair gosford tuggerah

TRANSPORT buses trains cars commuters

BITS n PIECES caterers whats on blog councils community testimonials advertise?

REVIEW - ARTIST - THE SHUFFLE KINGS

MEMBERS:


PAUL ROBERT BURTON:
Vocals, Double Bass
TAO WANDERS: Drums
ARNE HANNA: Guitar, Vocals
MIKE GUBB: Keyboards, Vocals
VICTOR POLYIK: Harmonica, Vocals
ROBIN ZIRWANDA: Percussion, Vocals

GENRE:
You Name it!

REVIEW - ARTIST - THE SHUFFLE KINGS

THE SHUFFLE KINGS -
Davistown RSL: February 25 2006:

The Jive Bombers - The Shuffle Kings and Vinnie the Swing King:

Not since the days of the legendary Button Mushrooms' New Years Eve gigs have I seen a show sell out to capacity as fast as this gig at the at The Davistown RSL Club.

With enquiries regarding ticket sales from as far away as Wollongong and many of the audience traveling from Sydney to see the show, there was a fairly subtle hint that this was to be a show to rival the best the Coast has seen in a long time. The vibe was all eager expectation and anticipation.

So many wonderful period outfits, rock 'n' roll/swing dancers and a very small few, just like yours truly, that were there to be enlightened to the reason for the hype.

Getting up close and personal with the camera had me wondering why I felt I knew some of these faces...

Had I had the time to have done some research prior to the gig I would have discovered that;

Paul Robert Burton was familiar from playing alongside the likes of; Jimmy Barnes, Kevin Borich, Pete Wells (Rose Tatts, Lucy DeSoto) and Phil Emmanuel to name a very select few.

Tao Wanders has been known to share the stage with Mal Eastick and Phil Emmanuel.

Mike Gubb has been seen with (forgive the name dropping to follow) The Dynamic Hypnotics, Mental As Anything and also toured Australia and America with The Whitlams and Europe with Crowded House.

Robin Zirwanda was recognised as the more than effervescent and energetic front man for Azadoota one of the many brilliant acts performing at The Peats Ridge Festival last year, while Victor Polyik and Arne Hanna are both musicians with a bio that has a long list of both national and international stars such as Long John Baldry, Jeff Simmons (Mothers Of Invention), Renee Geyer, Marcia Hines and the list goes on.

The other artists that oft fill the galaxial stage of the Shuffle are Charlie Cole (Moving Pictures, 1927, The Blues Brothers Band, Footloose Soundtrack, James Blundell and Ed Kuepper), Don Hopkins (Mal Green. Jim Conway's Big Wheel and Rob Grosser), Michael Hawke (Total Fire Band, The Harlem Shuffle, Little Pattie and Greedy Smith) Brad Child (Bob Barnard, Dan Barnett, Geoff Bull and Doug Parkinson).

Nothing I can write here after running off the star spangled list of talent here can do the show justice.

Suffice to say 'awesomely brilliant entertainment' is an understatement of such magnitude that this reviewer will have sympathy for those that missed this show.

Whats On Central Coast
is very proudly Central Coast and Australian owned and operated.
Whats On is run by a true local, born in Gosford.
What sets Whats On Central Coast apart from the others?
An extensive knowledge and a love of the area plus a genuine interest to promote all it has to offer.
So if you are looking for holiday, temporary, or permanent Central Coast accommodation, a spot of Central Coast shopping, some brilliant Central Coast entertainment, a dip in one of the many pristine Central Coast Beaches followed by some fish and chips or maybe 5 star cuisine from one of the many Central Coast restaurants or take-away's you have definitely arrived at the right place..
Check the links above and also to the left and find all you'll need to enjoy a night out on the town or a whole holiday!
Welcome to my home town.
---
~ THE GALLERY ~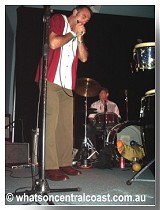 VICTOR POLYIK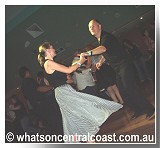 PETER AND SHAM
DANCERS