BIO - ARTIST HAT_ FITZ AND ITCHY

MEMBERS:
HAT FITZ: Vocals - Guitar
ITCHY: Drums

GENRE:
BLUES

CONTACT:
website





THE BIO - HAT FITZ

HAT FITZ N ITCHY :

The 'wild man' of Australian blues, Fitz hails from Queensland . Backed by his longtime drummer, Itchy, Fitz plays guitar (usually a metal-bodied resonator), stomps his foot and sings the blues with a physical presence and power that remind listeners of past blues greats like Son House and Charley Patton .

In many ways, he is Australia's counterpart to R.L. Burnside or T-Model Ford, playing gritty blues of mesmerising, deceptive simplicity. Born in 1967, Fitz cut his teeth on his father's Chuck Berry and Muddy Waters records, and started out playing rock and roll and jug band music.

He formed his first blues band, Hat Fitz and the Blooze Bitz with brothers Itchy and Scratchy from acoustic blues combo, Gravel Road. Over the last decade, Fitz has toured regularly, playing at festivals around Australia (including nine successive years at the East Coast Blues festival), and in Europe .

He has released several independent CDs, including the 1998 encounter with guitar maestro Jeff Lang on The Silverbacks. His repertoire includes his own interpretations of blues classics like 'Shake 'Em On Down' and 'Crawling King Snake', as well as a swag of original songs. Thanks to Fitz 's telepathic rapport with Itchy, the duo can build their performances through a series of frenzied, almost-out-of-control crescendos. www.hatfitz.net

"This is a loud, feral stomp down a Queensland dirt road ...... the sort of unpretentious music that doesn't care whether you're as pissed as a maggot or sober as a judge …… the players sound like they're beating their instruments to within an inch of their lives." - Jeff Lang

"Anyone who has seen Hat Fitz perform …. knows how the big man can stir up an audience with his wild, frantic interpretations of early Delta blues classics and self-penned songs ….. Fitzy would have to be Australia 's foremost purveyor of authentic pre-War Delta blues." – Al Hensley , 'Rhythms'.


Whats On Central Coast
is run by a true local, born in Gosford and is very proudly Central Coast & Australian owned and operated.

An extensive knowledge and a love of the area plus a genuine interest to promote all it has to offer is what sets Whats On Central Coast apart from the others.

So if you are looking for holiday, temporary or permanent Central Coast accommodation, a spot of Central Coast shopping, some brilliant Central Coast entertainment, a surf report before a dip in one of the many pristine Central Coast Beaches or a round of Golf followed by some fish and chips or maybe 5 star cuisine from one of the many Central Coast restaurants or take-away's you have definitely arrived at the right place..
We also have the resources to help with your wedding plans too!
Check the links above and also to the left and find all you'll need to enjoy a night out on the town or a whole holiday!

Welcome to my home town!

---
~ THE GALLERY ~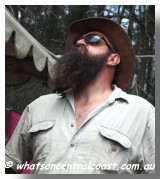 HAT FITZ