artists + bands reviews musos classifieds music tuition industry agent recording studios stores radio stations

WHERE 2 STAY hotels motels b & bs caravan parks backpackers

SHOPPING bay village erina fair gosford tuggerah

TRANSPORT buses trains cars

BITS n PIECES caterers real estate agent councils testimonials advertise?
ARTIST CD REVIEW - KEVIN GLANCY - WINDOWS

TITLE:
Windows

TRACK LISTING:
1) Rearview
Hotel Neon
Westward
2) Sleepers
3) Monkey Mia
4) Inside Out
5) Blindside
6) Empty Glasses

CONTACT:
Email - Kevin

THE CD REVIEW

KEVIN GLANCY- WINDOWS:

I happened across this CD while visiting a friend doing some tracks for a recording in a home style studio.

I have a few CD's that you put on when you don't need to think of anything else but what you are doing - now I have another and a good one too.

Kevin wanted something to play in the car on those long journeys and decided what better one could he have on than one he arranged himself.

You do notice the music in this CD without the interference of distraction. It is clear and uncluttered and just beautiful peaceful music.

Pop it on and depending on what you want, do it - reflect, relax, work, chat, whatever. It is the perfect background music to set that selected special ambience that you desire.

All the tracks on this CD were written and performed by Kevin Glancy.

Windows was recorded at Doctor Rock Audio Laboritories in Carlingford with the production by Ton Doss and Kevin and the engineering by Tom Doss and Janet Uurick (second engineer).

The beautiful artwork and design is by Robert Paes.

There is a quote from Kevin on the inner sleeve of the CD -
"These windows are yours to look through. When you need to escape, to unwind, to look forward, to look back, to imagine what might have been or will be. You can use these windows when you're driving, flying, sailing, riding. When you're in love or out of love. When you're jogging, dining, dreaming or relaxing. Anytime you're in the mood! I hope you enjoy the view."

If you can get a copy of this CD try it for yourself - it could be the open window to your relaxed soul.

Whats On Central Coast is run by a true local, born in Gosford and is very proudly Central Coast & Australian owned and operated.
An extensive knowledge and a love of the area plus a genuine interest to promote all it has to offer is what sets Whats On Central Coast apart from the others.
So if you are looking for holiday, temporary, or permanent Central Coast accomodation, a spot of Central Coast shopping, some brilliant Central Coast entertainment, wedding plan assistance, a dip in one of the many pristine Central Coast Beaches or a round of Golf followed by some fish and chips or maybe 5 star cuisine from one of the many Central Coast restaurants or take-aways you have definitely arrived at the right place..
Check the links above and also to the left and find all you'll need to enjoy a night out on the town or a whole holiday!
Welcome to my home town.
---
~ THE GALLERY ~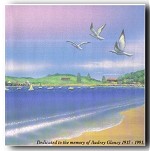 Kevin Glancy's WINDOWS CD inner sleeve image and dedication