MACRON MUSIC ERINA - ON THE MOVE
Our move to Shop 8 Erina Plaza is to take place over the weekend of
9 and 10 April 2011
, so our last trading day is Saturday.
We will move over Sunday, Monday and Tuesday and IF the planets are aligned, we will reopen on Wednesday.
We had been thinking for quite some time that we wanted to develop in a way that we had seen happening at a store in Sydney – the only draw back for us was our location and the size of the store, so when we were offered new premises almost twice as big as Fountain Plaza, we jumped at it.
Over the past few months the new shop has been transformed from the old 'Wally's World' variety store into a massive showroom, small auditorium/performance room, repair room and 8 teaching studios – not to mention a little chill out space just to sit, have a coffee, a read or a chat.
We want to be able to offer tuition to all ages as well as a place to perform or hold group lessons as well as provide a huge range of brands and quality instruments.
The progress will be over months but we already have 6 fantastic teachers on board offering a variety of lessons with more enquiring all the time.
We will also hold regular workshops and have booked 'Jumping Flea'!!! an American touring Ukulele player for June with more to come on a regular basis.
See more information on the
MACRON MUSIC WEBSITE
---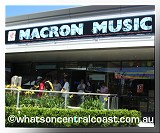 MACRON MUSIC ERINA 25th BIRTHDAY SALE WEEK END: October 29 - 30 2005:
Yours truly is going to have some sore fingers and a big smile for a while after this week end's massive entertainment line up.

The Macron Sale went off, with Erina being the place to be on Saturday and Sunday.

Well known and loved local icon Andy Mac was the MC on Saturday.

Steve Smillie started off the fun with a few perfectly played guitar instrumentals including 'Moonshadow' and 'Classical Gas' to warm up the crowd.

Next to take the stage was Aria award nominee Mr Adam Harvey. Adam played some of his classically 'Harvey' tracks from his recent CD releases including 'Doghouse', 'I think I Want My Rib Back' and 'Working Overtime'. Adam also did a beautiful version of 'Crazy' and his own 'Little Cowboy'.

After a small break was Felicity Urquhart. Felicity is another fine local performer who you will sometimes be lucky enough to catch at a local venue. Felicity did a few tracks from her new EP, The Flood, an independant release available from Felicity at her gigs and some of the major music outlets. 'The Flood' was a song Felicity penned for her parents who live in Tamworth.

Rising young star Travis Collins was the final act to close off the days entertainment on Saturday. Travis played soe songs from his CD Start The Car, including 'I Was Wrong', 'My Fathers Son' and 'Stand By Me'. More on Travis Collins is pending.

Sunday saw a showcase of some great young artists from the Battle Of The Bands. Something In Common, VetnA and 40 Footsteps gave us a glimpse at the young performers the Central Coast has raised and hopefully will support and nurture to allow them the chance to entertain us for a few years to come.

Again, more detail on these great young performers will be posted here soon...

Congrats to all the frazzled folk at Macron. It would appear that the whole week-end was worth the stress. An awesome couple of days!