THIRD TIME LUCKY: The Jetty Hotel & Bistro Deck; March 13 2005:
Another fine afternoon's entertainment from The Jetty Hotel.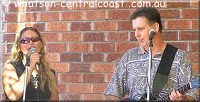 With the Central Coast Country Music Festival in full swing at The Entrance, the crowd was a little sparse to begin with.
A few latecomers arrived and were obviously enthused as to what they were hearing and full of anticipation to hear more.
I was running a little late and I was in time to catch from the second set.
I wish I had heard the first one. What an interesting mix this duo has picked to perform. Sure, there was the regular duo/magic box mix that is basically standard to get a gig in this town, but there were a few interesting twists to the songs as well.
A few vocal changes and characterisations and variety to the end of the song. This is a 'thing' with a few entertainers I have noted. Some wish to stick religiously to the original sound and others put in a little variance to change it slightly. Neither is right or wrong to me, just an observation.
I am a sucker for Footloose and that was one of the first ones I caught on my arrival. The rendition of the Santana/Rob Thomas hit was easily accepted as well.
Some hits from Disco Montego, Anastasia and Pat Benatar to Elvis and old Tom Jones, a real full flavour.
Rachel has a great vocal range and John has a way of changing his style to almost think there is a third or fourth vocalist up there.
Rachel had no trouble with hitting the highlight in 'Hit Me With Your Best Shot' at all. Even if she was a tad camera shy, the demure Rachel was enthusiastic with the presentation of her songs.
Rachel and John appeared both dedicated to what they do and extremely professional.
This was the third time they have appeared at the new Jetty Deck and I guess this time, for me at least, it was a case of third time lucky!