central coast musicians reviews musos classifieds tuition showcases recording studios stores radio stations pa and lighting Simpson's solicitors

WHERE TO STAY hotels motels bed & breakfast caravan parks backpackers

SHOPPING markets & garage sales bateau bay square erina fair gosford tuggerah

TRANSPORT buses trains cars commuters

BITS n PIECES caterers whats on blog councils community testimonials advertise?

ARTIST BIO - DAVE "KRUSTY" UNDERWOOD



DAVE "KRUSTY" UNDERWOOD
keyboards, guitar, vocals,
sax, arrangement


OTHER:
piano tuning
piano lessons CONTACT:
EMAIL

DAVE UNDERWOOD - THE MUSO

DAVE "KRUSTY" UNDERWOOD
If you are a local who has been around the Central Coast music scene for a few years the name "Krusty" will not be a mystery to you at all!

Dave Underwood started piano in his early childhood and is still going with it today.

Dave has played in many bands on the Central Coast, possibly the most popular role was that of "Krusty" The Acca Dacca legend from the Button Mushrooms - Brett Pilon, Mike Cernoy, Adam Lang, Greg Butt and Dave Underwood.
The Mushies also had local singer Neil Kelleher fill in the "hard to fill" boots of Brett Pilon when Brett and his family moved north.

Dave answered many AC-DC requests when the Mushies played... The crowd (there was always a big one at a Mushies gig) would go off and Dave was actually known to do the odd stage dive as well...

His alter ego, David Underwood the Piano Tuner, was of course much more sedate, and still is!

Dave's Piano Tuning business is coming up for its 25th anniversary. You don't survive that long in this industry without doing a job well. Dave also is a personal tuner, there are no electronic gadgets used. You will get concert pitch on your piano and its all done by ear.

There has been many a joke regarding the auditory talents Dave Underwood possesses. The nicest one being he could tell you what key was the thud of that tree that fell in that forest that no one else heard.

Dave's more recent band involvement has been with Peter Healy and the Hurricanes, long time friends Jim Heywood (Upright and Swinging, The Woodies) and Mike "Mojo" Cernoy (The Button Mushrooms, Planet Rock) in The Outsiders. A duo with Jim, The Woodies and also local music, TV and radio icon Peter Healy with Pete's Big Rhythm, Phat Magpie, and now as one of The Hurricanes.

Dave also gives the odd piano lesson on his Yamaha baby grand and with the talent oozing from every pore you have to know you are being taught by one of the best.

For tuning, session work, or tuition enquiries contact Dave Underwood on 0419 606 958.

~ THE GALLERY ~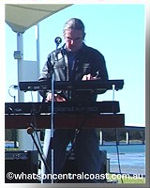 DAVE UNDERWOOD