central coast musicians reviews musos classifieds tuition showcases recording studios stores radio stations pa and lighting Simpsons solicitors

WHERE TO STAY hotels motels bed & breakfast caravan parks backpackers

SHOPPING markets & garage sales bay village erina fair gosford tuggerah

TRANSPORT buses trains cars commuters

BITS n PIECES caterers whats on blog councils community public internet cafes testimonials advertise?

RACZ AND WATERS

MEMBERS:

INGRID RACZ: Vocals, Bodhran, Djembe and percussion

KAREN-ANNE WATERS: Vocals and Guitar

TAHLIA RACZ: Vocals and Mandolin


GENRE:

Acoustic Originals and some classic covers

WEBSITE:
RACZ AND WATERS - MYSPACE

THE BIO

RACZ AND WATERS: Racz 'n Waters, an up and coming Central Coast based trio, have been described as a 'rare find' and certainly know how to to draw you in and take you on a ride through their world of love, heartache, forgiveness, revenge...and occasionally their experience with the weather.

These three female singer/songwriters rock it up and slow it down with their infectious songs and effortless and mesmerizing harmonies.

Sprinkle all of this on top of Guitar, Mandolin and Irish Drum and you have something wondrous, exciting and truly worth watching out for!

For more information, images, gig dates and a sampling of their wonderful music please visit the RACZ AND WATERS MYSPACE PAGE.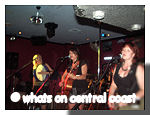 RACZ AND WATERS - SOUL SESSIONS - SIRENS:
It is extremely rare for the stars to not shine bright at Terrigal most nights. The Soul Sessions have brought some of the stars indoors with The Peter Healy and The Hurricanes session nights.

Having said that, last Sunday, November 2nd Peter Healy added more brilliance to this local galaxy by having the sensational local trio of Racz and Waters as special guests.

A repeated word throughout the well patroned Venue was 'beautiful'.

Beautiful music, beautiful voices and three beautiful women to epitomize the venue's name - Sirens.

With seemingly effortless effort this most entertaining trio had the patrons lulled into silence, mesmerized into enjoyment and totally enthralled with their most unique talents.

From unusual instruments all the way to three of the most beautifully suited, angelic harmonies this trio just cannot help but captivate an audience.

The songwriting capabilities are only reinforced by the rendition of some of the most beautiful original works penned locally.

The unique interpretation of unusual covers songs made you wonder why they weren't performed that way in the first place.

If I have your interest piqued please check the gig guides, for these three ladies are in high demand and becoming very busy as their reputation grows and the word spreads.

Go along to a gig and see for yourself what brilliant local talent can really be like. You wont be disappointed and you can also grab a CD so you can continue to hear these Sirens call.

An interesting footnote - A statement from a most enthused first time visitor to the Soul Sessions tonight and an avid music enthusiast has likened the Soul Sessions to those of the Basement in Sydney such is talent that was on board to entertain...
---

RACZ AND WATERS - CD LAUNCH - LIZOTTES: Racz'n'Waters at Lizottes album launch.

The venue was full and Tahlia, Ingrid and Karen performed magic with their harmonies and lyric content. Their latest cd goes to show that they get better at their musial creativity abilities.

A friendly atmosphere always surrounds the group with the girls taking the mickey out of themselves.

Albums and R n W keyrings also! Great to see them and I am privileged to know them.

Catch them....a class act.

Review from David 'Krusty' Underwood
Posted March 09.2010

---

---

WELCOME TO WHATS ON
Whats On Central Coast
is very proudly Central Coast and Australian owned and operated.
Whats On is run by a true local, born in Gosford.
What sets Whats On Central Coast apart from the others?

An extensive knowledge and a love of the area plus a genuine interest to promote all it has to offer.
So if you are looking for holiday, temporary, or permanent Central Coast accommodation, a spot of Central Coast shopping, some brilliant Central Coast entertainment, a dip in one of the many pristine Central Coast Beaches followed by some fish and chips or maybe 5 star cuisine from one of the many Central Coast restaurants or take-away's you have definitely arrived at the right place..

Check the links above and also to the left and find all you'll need to enjoy a night out on the town or a whole holiday!
Welcome to my home town
.
---
~ THE GALLERY ~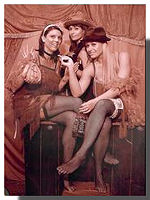 INGRID KAREN-ANNE
AND TAHLIA