artists + bands reviews musos classifieds music tuition recording studios stores radio stations

WHERE 2 STAY hotels motels b & bs caravan parks backpackers

SHOPPING bay village erina fair gosford tuggerah

TRANSPORT buses trains cars

BITS n PIECES caterers real estate agent councils testimonials advertise?

REVIEW - LOST - DAI PRITCHARD, LONE WOLF
AND KING RHYTHM

ARTIST NAME : LONE WOLF (Lawrence Baker)- Vocals Guitar
DAI PRITCHARD - Vocals Guitar
KING RHYTHM - Percussion

GENRE:

Rock Original

THE REVIEW

LOST - DAI PRITCHARD, LONE WOLF AND KING RHYTHYM:

Club Berowra - December 14 2006

An impromtu birthday dinner invite and very mini "rent a crowd" had me tripping down the freeway to the Berowra RSL tonight.

It was one of those gigs where an urgent fill in was not to be rejected so lets throw some musos together and just like the origin of champagne, this accidental band bubbled as if those ingenious monks, Dom Pérignon and Dom Thierry Ruinart had put these guys together themselves.

The three performers, Dai Pritchard, Lone Wolf (Lawrence Baker) and King Rhythm are all individually, excellent and accomplished performers. Thrown together as they were, prompted a night of astonished comments from our group (who knew that Lawrence and Dai had never met, let alone played together before) and some enthusiastic appreciation from the unknowing punters in the room as well...

Whether is was Lone Wolf's music or Dai Pritchards works, all three performers just melded together as if they all had a hand in writing the material together. This is a rare and fantastic thing to behold.

The boys' introduction to the room before playing was "hi, we are - umm, LOST" with a laugh - hence the name.

This band, unfortunately, is not an ongoing concern. I will just treasure the memories as one of those rare golden opportunities that I was fortunate enough to catch.

I am still waiting to catch Dai Pritchard at a nearby venue to see him play more of his songs. I have a good intuitive feeling that I won't be disappointed.

As for Lone Wolf and King Rhythm, I will be catching up with them again at Diggers @ The Entrance on the October long week end. This too will be a gig not to be missed.

The most comprehensive coverage of live music on the Central Coast of NSW starts here. If your favourite venue does not appear on our guides send them an invitation on our behalf. We would just love to have them come aboard.
---
~ THE GALLERY ~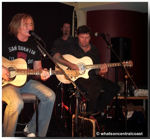 LOST
LONE WOLF
DAI PRITCHARD AND
KING RHYTHYM